Academic Leadership
Mrs Annabel Parker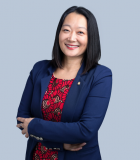 Mrs Annabel Parker
Director of Mandarin
Since joined Dulwich College International as Director of Mandarin in 2012 Annabel Parker (杜宏霞) works closely with and coordinates the DCI Mandarin faculty of over 100 teachers across the group. She leads the development of the Mandarin programme in the areas of curriculum development, quality assurance, teacher professional development, she also works closely with the director of early years to develop the Dual Language approach at Dulwich Colleges in China and Dulwich College in Singapore. She was a Deputy Head of a primary school in Taiyuan before moving to the UK in 2001 to teach Mandarin at a School in London. Here she worked at the forefront of Mandarin education in UK; developing curriculum, mentoring and training new teachers. She then took a position as Head of Modern Foreign Languages at New Line Learning Academy of Future Schools Trust in Kent, where she developed Mandarin to become the language of choice. She continued to develop curricula, mentoring and training new teachers, lead a team of teachers that has brought Mandarin to 15 primary schools, several other secondary schools and established a successful Chinese Community school which has brought Mandarin learning to the whole community.
Ms Parker has trained numerous Mandarin teachers and regularly gives seminars and workshops at national conferences and events. She was awarded the Outstanding Leader Award for her work in promoting Mandarin teaching and learning in the UK.
Ms Parker has a teaching degree from China and fast track Qualified Teacher Status from UK.
---