Delivering Excellence: Inside DCB's IB Diploma Programme
At Dulwich College Beijing (DCB), the pursuit of learning excellence takes centre stage. One of the flagship programmes that showcases this commitment is our International Baccalaureate Diploma Programme (IB DP) – a globally recognised gold standard for university entrance. Year after year our students deliver spectacular results that are some of the highest in China and across the world and a source of immense pride for our community.
Our Class of 2023 continued this tradition with their remarkable achievements: an IB average of 37.1 (out of a maximum 45 points) – surpassing the global average of 30.24 – and 39% of our 83 students scoring over 40 points. Additional noteworthy standout achievements include:
2 students who achieved a perfect score of 45, (179 students achieved this globally)
4 students who received 44 points, and
8 students who scored 43 points.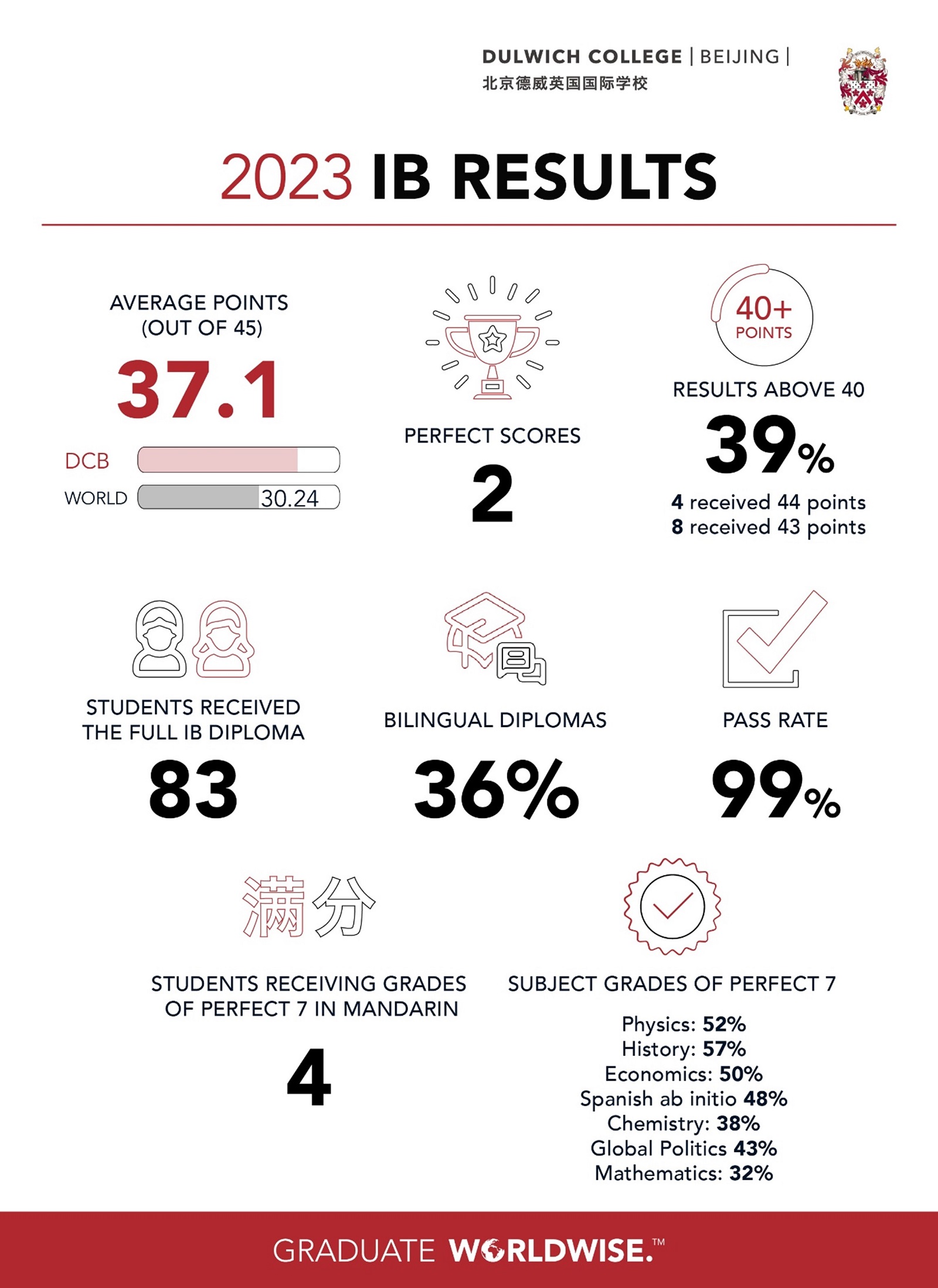 Going Beyond Scores
While the results are impressive on their own, they don't capture the entire story. Each student has taken their own path of growth, working on their character and skills to overcome the challenges they faced over the last two years. Over the span of two rigorous years, our IB students acquire more than just academic excellence; they acquire invaluable life skills such as stress management, focused discipline, self-awareness, multitasking, critical thinking, and innovative problem-solving. These skills are vital not only within the IB but also in every facet of their lives. In this way, our pursuit of excellence goes beyond scores and is driven by our goal to nurture our students to navigate the world with wisdom, or Live Worldwise.
Embodying the IB Mission
Aligned with the mission of the globally renowned International Baccalaureate, our DCB mission to nurture students who "Live Worldwise" resonates in cultivating curious, knowledgeable and compassionate global citizens who recognise their shared responsibility for our planet. We aim for students to ultimately aspire to make a positive difference, using their gifts and talents to craft a better, more sustainable, and peaceful world.

And while IB programmes worldwide are designed to maintain a consistent framework and philosophy, there are variations in how these programmes might be implemented. These differences often reveal the distinctive qualities of each institution's approach. As we delve into DCB's IBDP, here are 7 remarkable aspects that set DCB's IBDP apart.
1. To provide top-tier education, we need top-quality teachers.
The cornerstone of a world-class education is an exceptional teaching staff. In 2022, DCB topped the IB League Table in Beijing – a testament to the strength of our IB programme and expertise of our highly skilled teaching staff.
Steering the IBDP ship here at DCB is Anthony Baldwin, the Senior School Assistant Head and IB Diploma Programme Coordinator at DCB with decades of teaching experience under his belt. Sharing about his IBDP Core Support Team, "DCB takes pride in our exceptional IB Core support and teaching team, who are well-trained in IB requirements and are dedicated to providing our students with an education that is both stimulating and challenging. Our expert teachers make sure that our students receive the best education possible that aims to not just meet but also exceed the expectations of the IB programme."
And after every reporting round, the IB Coordinator and Heads of Year meet to discuss any students of concern, relating to academic and attendance performances. All IB rules and regulations are regularly reviewed by the IB Coordinator and Heads of Departments, making sure that we are staying up-to-date with any changes or updates. This helps ensure that our IB programme adheres to the highest standards.
Mr Baldwin also shared that professional development opportunities keep the faculty up-to-date with the latest curriculum developments and best practices. The school's commitment to continuous improvement can be seen through its investment in staff training, including courses like the IB Category 2 programme and the Accelerate Middle Leadership Programme. In order to ensure that our students receive the best education, our teachers also need to be at the top of their games.
2. At DCB, the journey to university starts even before the IB years
In the IBDP, students develop values and attitudes that help them thrive in the IB DP and beyond. At DCB, these values, skills and attitudes are honed at an early age, years before they even step in Key Stage 5.
In Key Stage 4 (Years 10 and 11), our DCB students take the IGCSE curriculum, a robust steppingstone to the IB programme as it offers students a more structured and focused approach and a solid foundation in specific subjects, which can then be built upon during the IBDP. Many universities also pay particular attention to the subjects students choose during these years, as it is the first indicator of a student's academic preparation for further study.
DCB is a strong advocate for a Students First philosophy, where we tailor our teaching to our students' passions and academic needs. This is why in addition to the courses offered in our IGCSE curriculum, DCB also offers bespoke programmes such as our STEM, FutureTech and Liberal Arts courses, that fill in the gap to cater to our students' passions and better prepare them for their IB life and their chosen pursuits. This also gives students a headstart in subjects they want to pursue or perhaps the opposite: to realise that their passion is elsewhere and take a different route during the IB. And because our teachers understand our students' needs, there are those who create opportunities for students to explore their passions and find their best fit.
Take our brand-new Key Stage 4 course FutureTech for example, a project that's been years in the making that addresses a subject many are now fascinated about: AI and Robotics. The innovative in-house curriculum was created to attempt to meet our students' needs so that their learning is driven by passion, and not just what's on offer, especially if they choose to pursue this later on.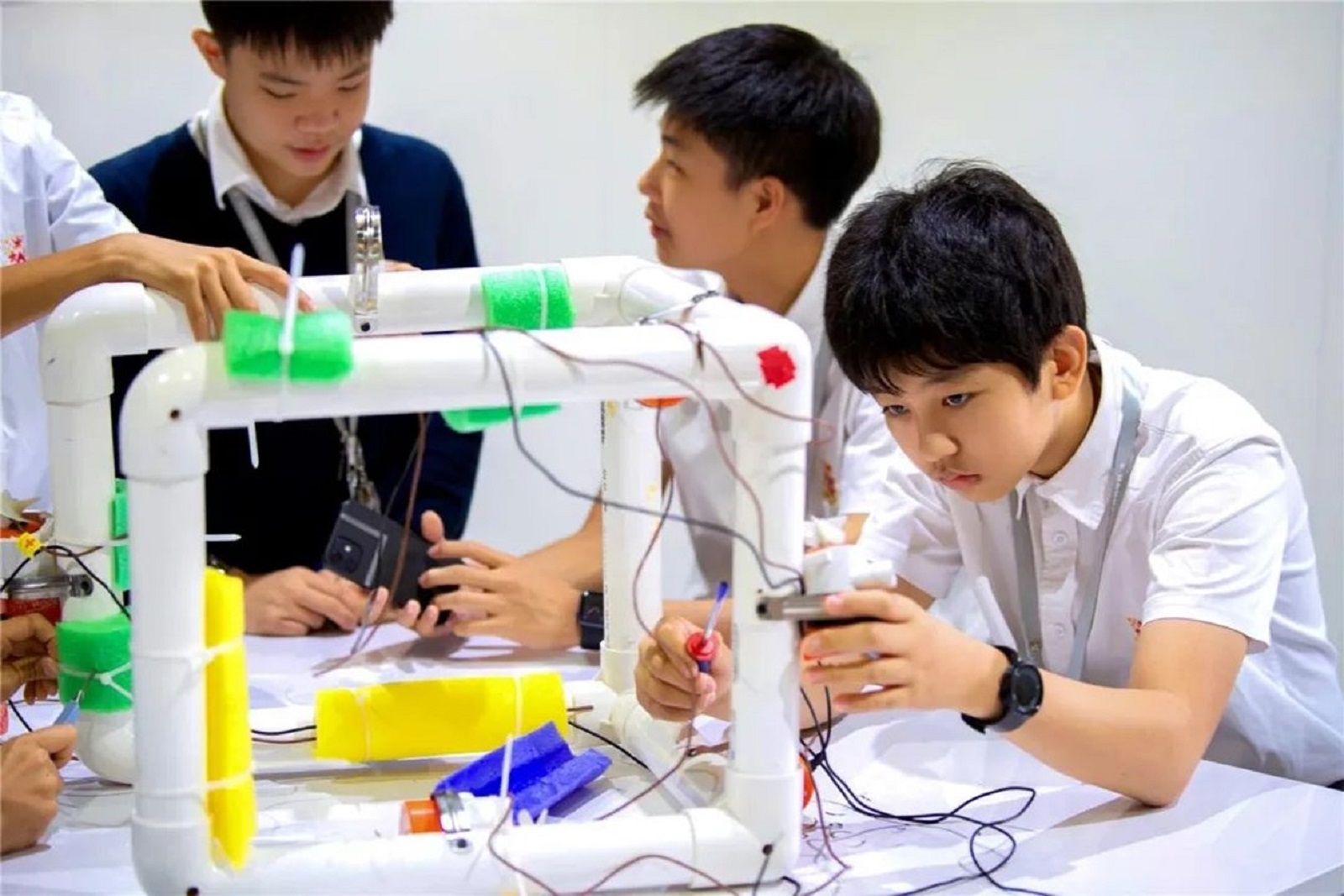 And as our values and beliefs closely mirror the IB programmes' goals, the qualities of an IB learner are also reflected in our younger students' attitudes towards learning. Our Head of College Anthony Coles explained how success in an IB programme is not necessarily about what you learn, but how you learn.
He pointed out that when students have agency and love learning, they learn to enjoy the process and not just the result. "And by the time they get to the older years, they already have a toolkit ready to draw upon when they launch into their IB subjects, which we have many options for. And when the students select their subjects, they are going to be successful because they are motivated to learn about those subjects and link what they do at school to what they want to do at university. Our students are super motivated to do well because they know what opportunities are there even before they start years away."
3. Our students' well-being comes first
While renowned for its academic rigour, the IBDP is equally known for its potential to become overwhelming. It is important that we prioritise the holistic well-being of our students. We balance their academic needs with their social, emotional, and physical well-being. Our robust well-being programme addresses challenges ranging from work-life balance, workload pinch points, exam stress, time management, perceived competition, and academic pressure to transitioning to adulthood. The Creativity, Activity, Service (CAS) programme plays a pivotal role in fostering personal development and emotional well-being, while a well-structured assessment calendar ensures that students' academic pressures are managed effectively.
All students have a designated form tutor as a first point of contact and the form tutors instruct the students as part of the planned wellbeing program once a week. Heads of Year, with the support of form tutors monitor all student's health and well-being with dedicated Social and Emotional Councillors used when necessary.
4. At DCB, students are taught to take ownership of their learning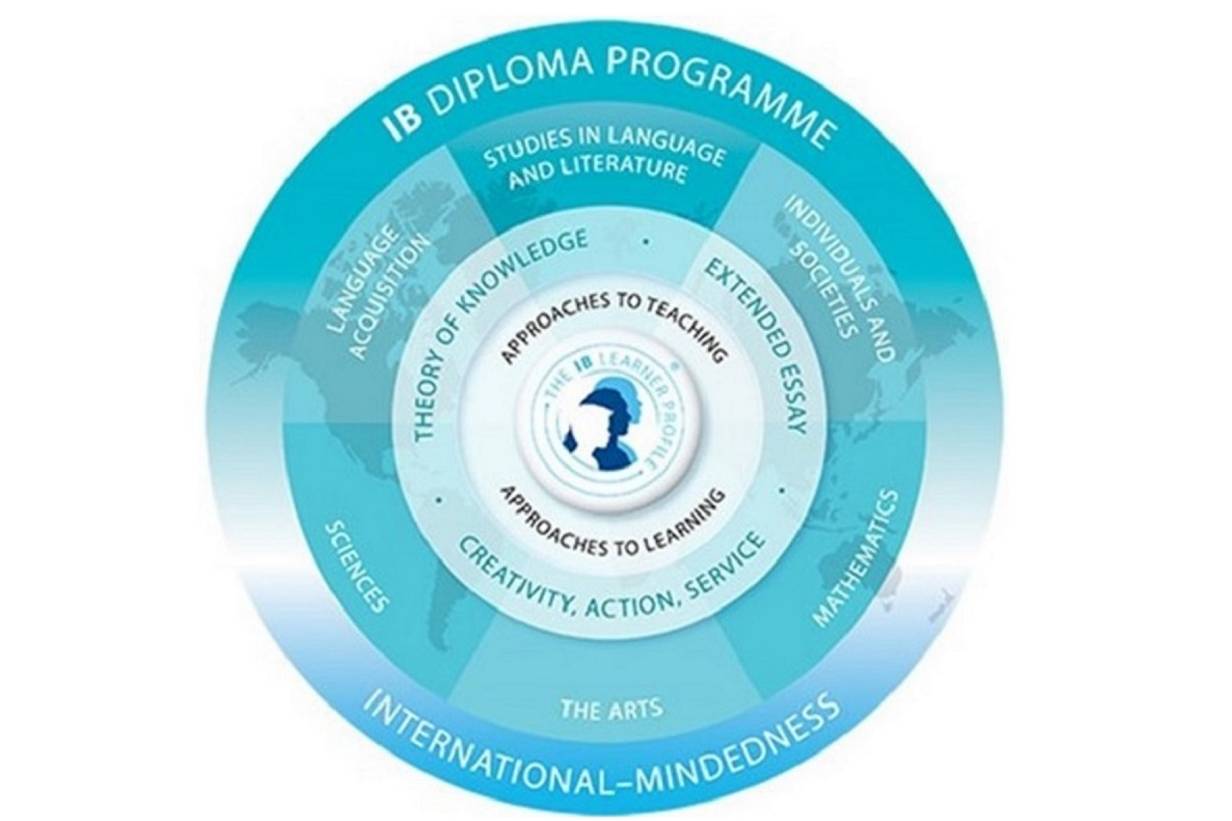 The essence of the IB programme transcends subject knowledge – it encompasses holistic personal development. Comprised of six subject groups and three core elements, and our team at DCB place a strong emphasis on developing the Approaches to Learning (ATL) skills in our students. These deliberate strategies, skills and attitudes enable our students to 'learn how to learn' to become self-directed learners and critical thinkers, qualities that extend far beyond the IB journey. All departments have an ATL lead who undergoes regular IB training to stay abreast of curriculum developments.
5. Students receive a high degree of attention from our university counselling team
At DCB, our university and careers counsellors take a proactive role in guiding students toward informed choices. They frequently meet with our Senior School students individually and in groups to provide information and personalised guidance on further education and careers. They play a particularly important role in the IB subject choice process, during which they will meet with every Year 11 student ensuring alignment with their anticipated pathway of tertiary educational aspirations.
As a result, students select universities and degree courses that best fit them, leading to a more suitable university matching process. Our university and careers counsellors have proven track experience and strong ties with some of the world's leading educational institutions, which has led to our students matriculating at some of the top universities globally.
6. World-class access
Collaboration, creativity and engagement lead the way we teach at DCB. Our College offers an educational environment designed to nurturing the intellectual, physical, social and emotional development of our students. Our campus boasts outstanding world-class facilities spanning sports, arts, science and theatre, along with three libraries providing access to over 70,000 resources.
Our students' learning extends beyond our campus. Thanks to our Dulwich College International School network, our IB students experience a global perspective within and beyond the campus enjoy numerous opportunities throughout the year to interact and collaborate with our peers across the schools, enriching their overall learning experience.
With a wealth of assets and opportunities at their disposal, students have access to a wide range of resources to support and bolster their chosen pursuits.
7. Peer support
Peer support is essential in thriving at the IBDP here at DCB, as numerous leadership opportunities abound and to ensure their academic and extracurricular success, students need to work together.
During her speech at the graduation rites of the Class of 2023, Head of Senior School Clare Anderson-Au shared that, even with the students' unwavering commitment to academic excellence and their remarkable contributions to the school, what really left an indelible mark on her was the intangible qualities that made the students stand exceptional, remarking that their "compassion, empathy, and genuine care for one another have created a supportive and inclusive environment within our school, fostering a sense of belonging that is truly unique."
With a dedicated faculty, comprehensive support systems, and an unwavering commitment to fostering students who "Live Worldwise", our IB DP students are poised to to achieving overall excellence and aspire to make meaningful contributions to the global stage. Echoing these sentiments, the words by 2022 Deputy Head Boy Zion Kang in his graduation speech resonate, "Live worldwise and let us seize the opportunities that lie before us and dare to dream big."
To learn more about Dulwich College Beijing and our IB programme, please click here.