How a Policeman, an F&B Manager and a Film Director Became Teachers
Ask any number of educators when they first realised that they wanted to teach, and most will tell you that they felt passionately drawn to the profession from a young age. However, on the opposite end of the spectrum, economists, healthcare professionals, and hospitality directors are trading in successful careers for a late calling to the classroom. Why would somebody give up a long-standing and successful career to teach? What unique edge can second career teachers bring to your child's classroom? We explore these two questions with second career teachers Kieran Burgess, Katie Sharp, and Darren Ormandy, who all currently teach at Dulwich College Beijing (DCB).
Drama and Theatre Teacher Kieran Burgess
Kieran Burgess, now a drama and theatre teacher at DCB, describes his career path to teaching as "more like career spaghetti, with roles overlapping and evolving." Kieran's first job at the age of 15 was a deputy stage manager for a musical in several large venues in Manchester, United Kingdom. This position rolled into contract gigs in lighting, sound, and stage management, which he juggled alongside his A levels before transitioning to full-time work in technical theatre for several years. Kieran explains that the "nature of the theatre industry meant a mix of freelance contracts and permanent contracts running simultaneously."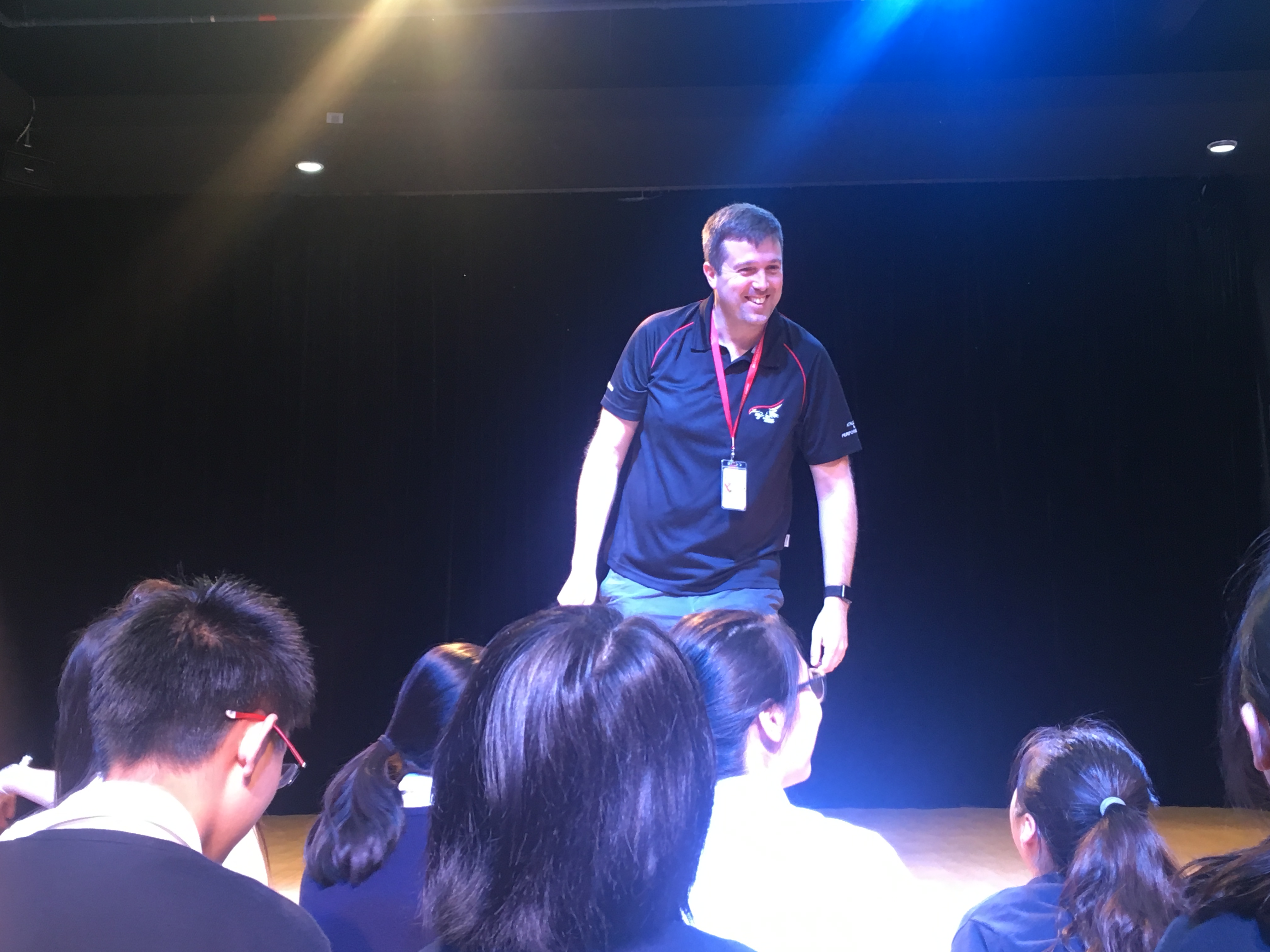 "It was quite early on during this phase of my life that I began to offer workshops for drama teachers, which then led to teaching young people," he reveals. His first taste of teaching, however, wasn't yet strong enough to move him into the classroom exclusively.
Instead, Kieran decided to join the police force, where he spent five years as an officer, attaining the rank of Special Sergeant, among other general duties. He did this alongside theatre work and teaching, too.
So, what finally brought Kieran into the classroom permanently? It snuck up on him. He says that he was asked by his old drama teacher and mentor to deliver a workshop to drama teachers in lighting and sound within a school context. It went exceptionally well and grew into national workshops. From there, he began tutoring students in different schools and colleges before "taking the plunge" and accepting the position of theatre manager in a sixth form college. "I discovered that I could actually have more creative freedom as a theatre-maker in education, with the bonus of the emotional reward of seeing young people 'get it' for the first time. I was hooked," Kieran says. He later enrolled in a graduate teacher training certificate program and hasn't looked back since.
When asked how his past careers have influenced what he currently does in his classroom, Kieran says, "Policing taught me to focus on people. The ability to read people, to pick up on preoccupations, fragilities, and emotional states and respond in a way that brings them down from anxiety to reason has been essential in creating an atmosphere of safety and engagement in the classroom." His belief in "students as people first" instantly lent itself to the teaching environment at DCB, where a holistic approach to students and teaching is a top priority and core value.
As for his background in technical theatre, beyond the obvious subject knowledge, his experience has conditioned him to find original solutions to problems he's never encountered before. Kieran says, "[This] has also become useful in helping students get through conflicting demands from multiple activities and subjects."
English Literature Teacher Katie Sharp
Unlike Kieran, Katie Sharp, who is an English literature teacher at DCB, had no prior experience with teaching before she took her leap.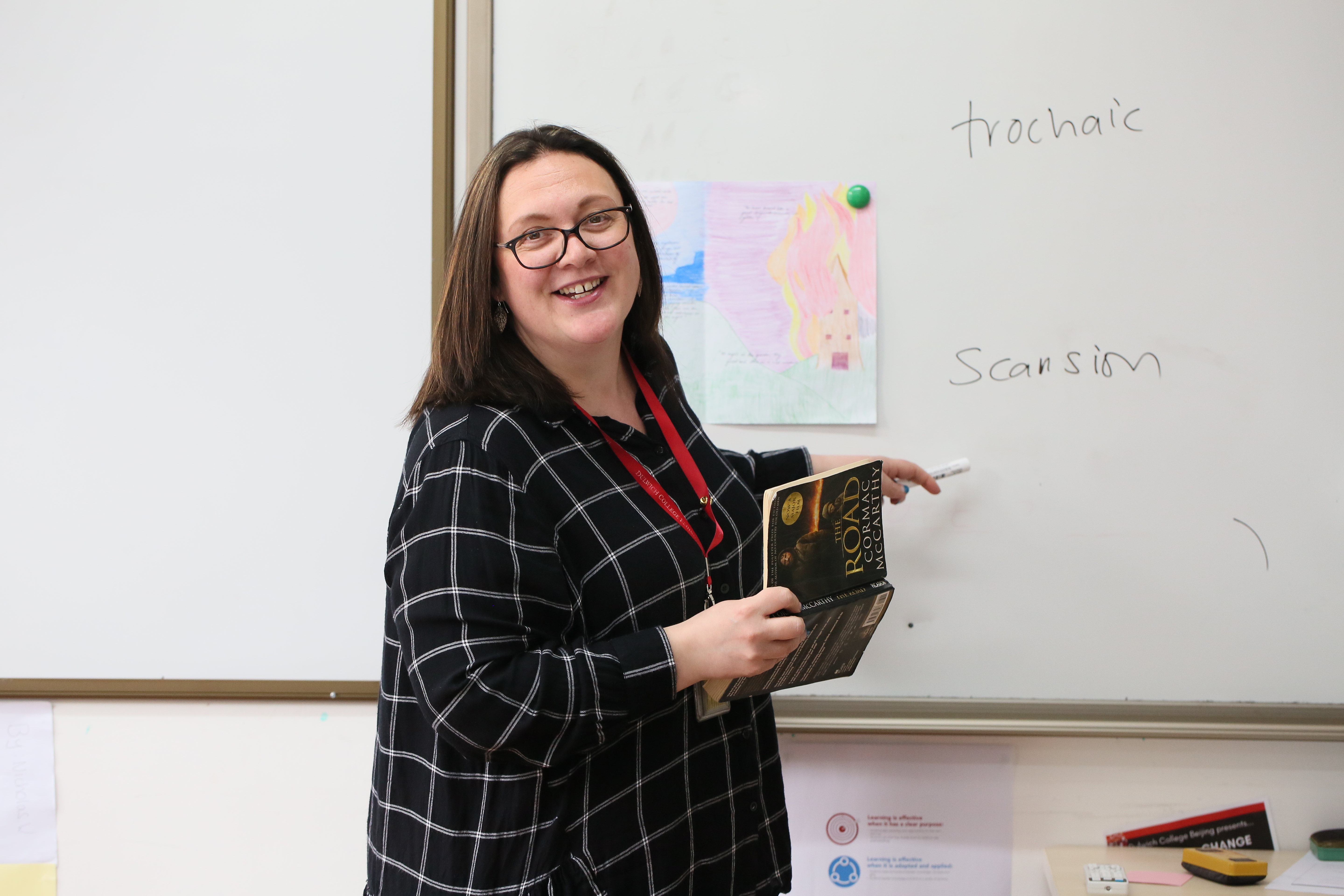 Now in her 13th year of teaching English literature, Katie jokes that when she shares with her students about her former career, they are sometimes surprised that she hasn't always been a teacher. Katie's first career, however, was as a food and beverage manager for a hotel in Scotland. What guided her into teaching? "I just woke up one morning and decided to go back to university. On completing my degree in English, I was accepted to study for a master's in journalism. It was a bit expensive, and teacher training was free, so I decided to teach for a couple of years to pay for my master's," Katie explains. However, a temporary sidestep for Katie morphed into something much bigger. "It turned out that I loved teaching, and I have been doing it ever since."
Katie says that her crazy work schedule as a food and beverage manager fostered a strong work ethic, which is a core component of who she is as a teacher. "I started working in a hotel part time when I was 13, so I was used to hard work and long hours. I also learned how to be organised. In both [hospitality and teaching] you are juggling a number of tasks at the same time, so you have to be organised and be able to prioritise." Katie notes that her experience in creatively managing massive unique functions has also influenced her lesson planning and is an important foundation to what she does inside her classroom, "I would say creativity is absolutely key in teaching."
Despite not having a teacher's background, Katie believes that the essential things a teacher should have are "a genuine interest in young people and a passion for the subject they teach."
"The day I lose either of those will be the day I stop teaching," she states.
IB Film Studies Teacher Darren Ormandy
Another of DCB's creative departments, Film Studies, is home to trained actor and award-winning maker of independent short films, Darren Ormandy. Darren's biggest claim to fame — and certainly the one which caught the most attention from his students — is that he was part of Christopher Nolan's first film.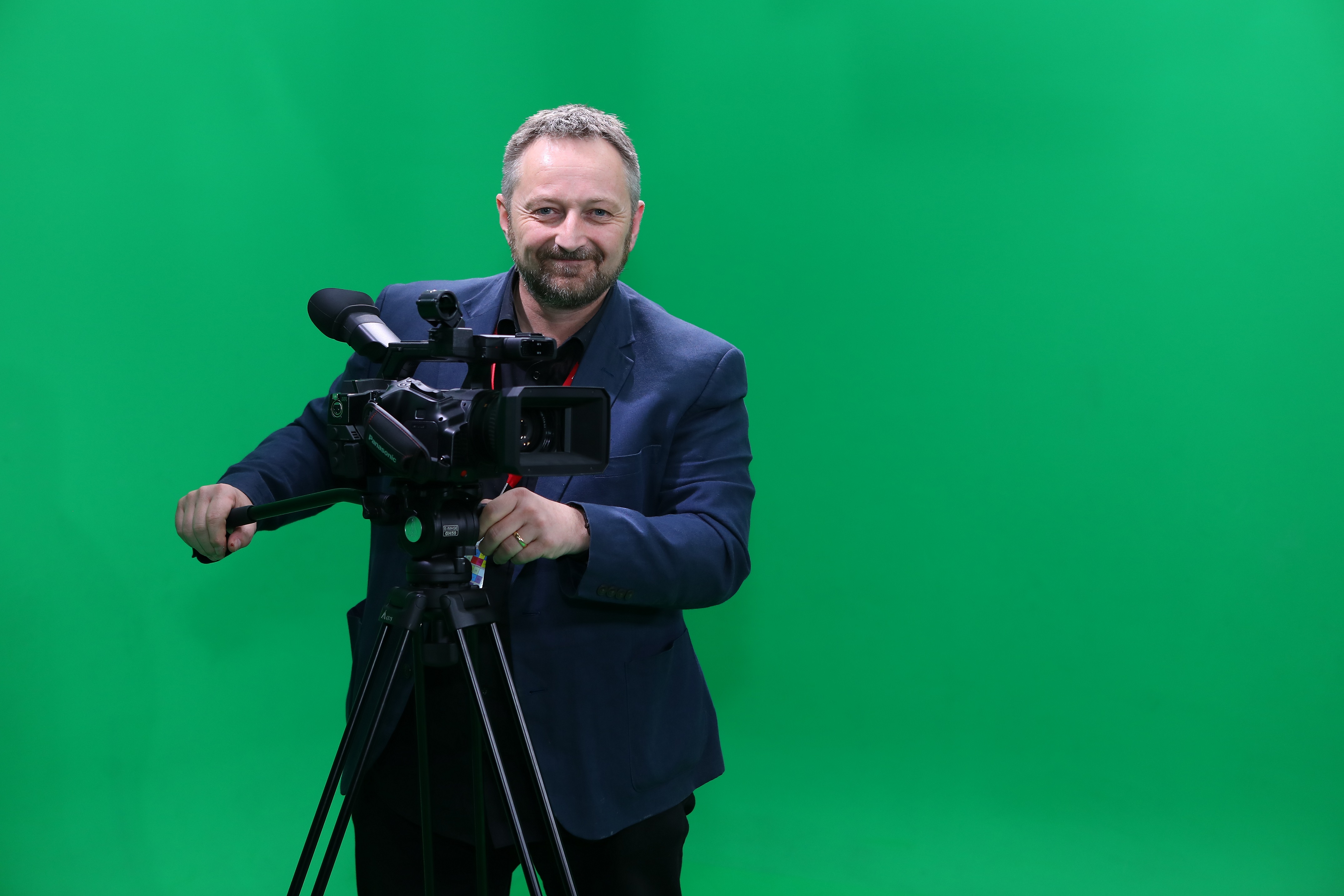 After moving to China several years ago as a trailing spouse, Darren quickly got into directing in the local film industry. However, after two years, he realised that he missed interacting with students, as he had while writing, producing, and directing historical re-enactments for tourists and school groups at the Tower of London. He had just finished a master's degree at Oxford University when an enticing opportunity opened up at DCB. Darren recalls learning about the school's plan to introduce IB Film Studies. He applied to launch the course and got the job. On being a second career teacher, Darren says, "I'm coming to it later in life, but I feel like it is what I want to do now. There are so many levels to teaching and different directions you can go in. It really is a craft. To be somewhere like [DCB], that is so encouraging, and people are keen to share their knowledge. It's exciting; I feel like I'm on a new journey."
While Darren notes that he learns a lot from his colleagues who have extensive experience teaching in schools, he also knows that his experience with film making allows him to teach his students very practical, industry-focused skills such as how to pitch ideas. Darren says that he has a knack for helping his students to organise their thoughts and share them concisely.
Darren says that what he shares with his students are tried and tested, real-world examples that he himself has had to do. "It really helps students to sort out their problems when they are trying to write or create something, when they're trying to get a good camera angle or to find a way to do something cheaply because often times you're working on a limited budget. So there are some very practical real-world skills that are really useful, and I think it helps the students to get a little deeper into the subject."
What is most rewarding to Darren about his new career is how teaching what he knows is stimulating the creativity of his students. "We don't know what 65 percent of jobs will be like in the future, so we're not just trying to help the students get good exam results. What we really want them to do is to be original – think outside the box, look at problems creatively, and be adaptable. Watching that happen, watching my film students start to make really interesting original choices, you know that you've been able to lay the groundwork for that."
"How Teachers with Previous Careers Are Enriching the Modern Classroom" by Lisa Alleyne was first published on www.beijing-kids.com in May 2019.