Learning in creation: Dulwich Chinese Short Film Festival

The Dulwich Senior School Chinese department successfully organised the fourth Dulwich Chinese Short Film Festival starting last December, and the event culminated in an online awarding ceremony on Wednesday 26 January. The three themes this year were: Time Travel, Youth and Dreams, and Sustainable Development Goals (SDG). Altogether, students from Year 7 to Year 12 submitted 12 short films of 3-5min each. We were glad to see that students also recorded off-campus real-life moments in various places in Beijing such as Gubei Water Town, Houhai Hutong, urban parks and the Beijing subway. Some works integrated traditional Chinese cultural elements including hanfu, the traditional Chinese costumes from the Han Dynasty, and classical zither music. Even the students' families participated or supported the shooting or editing.
The Head of the Senior School Chinese department Ms Chen Lu summarises the value of such a film festival for students as a special learning experience. "The DCB Chinese Department always encourages students to apply what they have learned into real life and maintain close connections with the community that they live in," she underlines. "Participating in the Dulwich Chinese Short Film Festival allows students to use their cameras and Chinese language to tell stories, but it also provides them opportunities to feel the real life around them. In the process, students can deep-dive into the local culture, and develop their communication and organisational skills. It is indeed killing many birds with one stone." Sally C, a Year 12 student who has already participated in the film festival for a few years, shares her experience: "This is the third time my team have been participating in the Dulwich Chinese Short Film Festival, leaving me with an indelible memory. From the script to the props, and from filming to editing, I am proud and gratified to see our short film develop into the final product."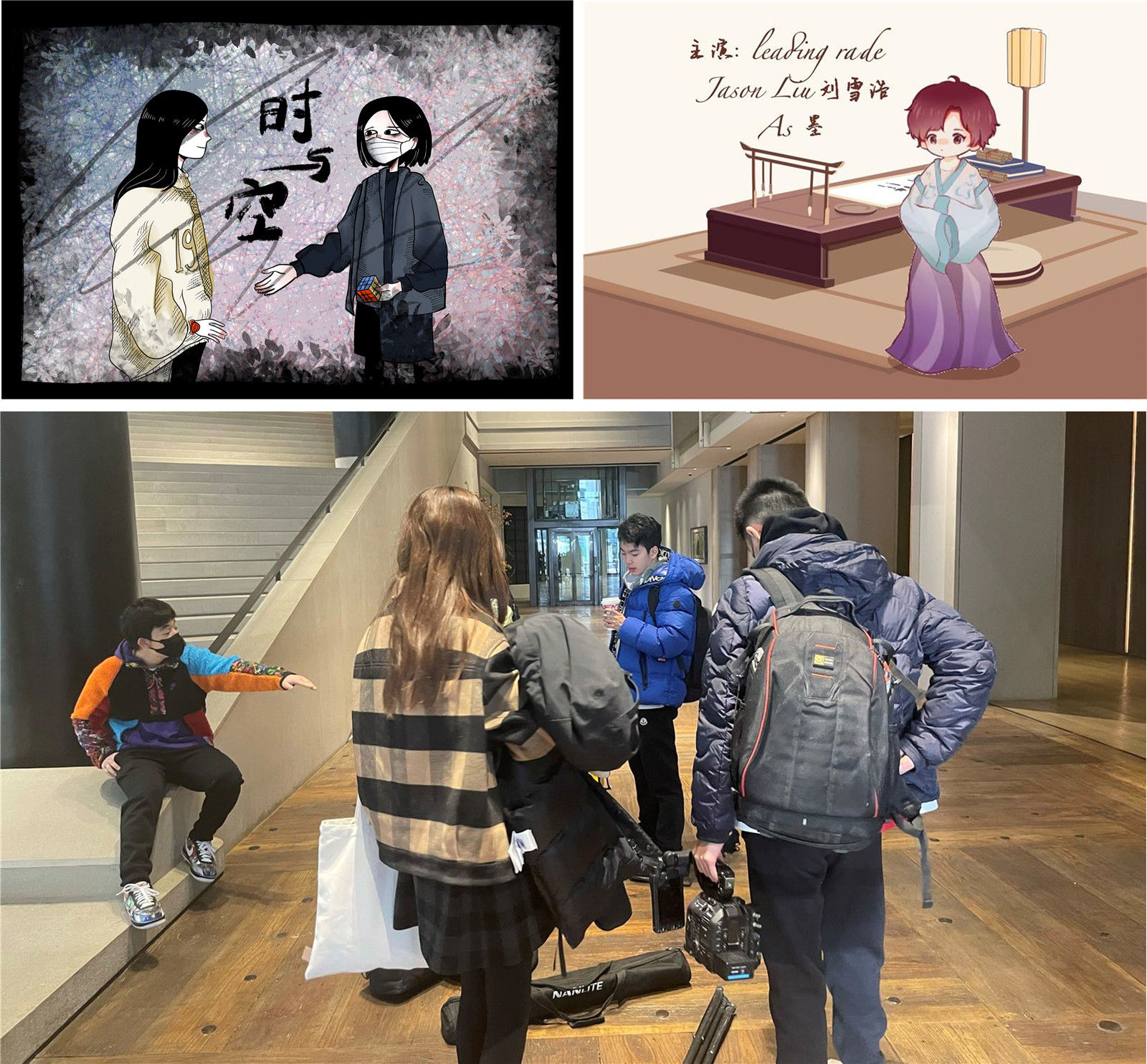 The Chinese Short Film Festival was initiated in 2017 as a Chinese study assignment and has since then become a student-led learning project. The short films have improved over time, whether in terms of participation, technique, or overall quality. Students spontaneously organise shooting according to the requirements, observe and record real-life moments through their own lenses, then carry out their creations. During the process, they cooperate with classmates and teachers, not only to gain knowledge in Chinese language and filming but also to practice soft skills including communication and management.
Students generally enjoy the process of participating in film production. Sabrina Z from Year 8 believes that participating in the Chinese Short Film Festival is really meaningful and reflects that "making short films is a good opportunity to work with new schoolmates and help us know more about each other. We've built a very supportive and caring team. After this time, I believe I can communicate and get to know my friends better. Lastly, I really enjoyed the shooting process and would love to try it again last year!"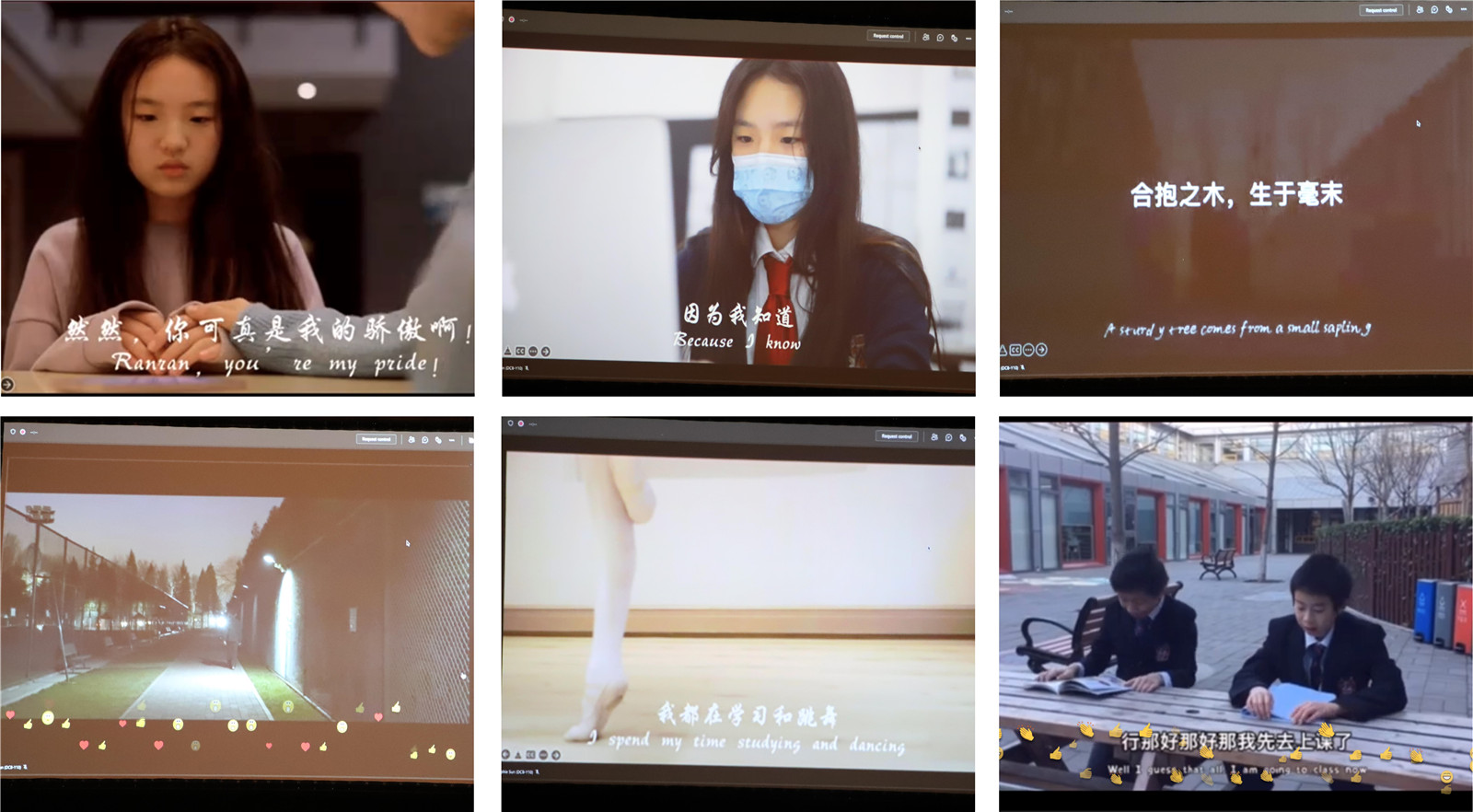 Henry B from Year 12 and Kevin H from Year 8 also emphasise the teamwork experience. "This experience of creating our short film is full of joy and collaboration, every group member contributed to the process of decision-making. Everyone has their own work to take care of, but we also collaborate, make collective efforts and advise each other. We feel the power of the team!"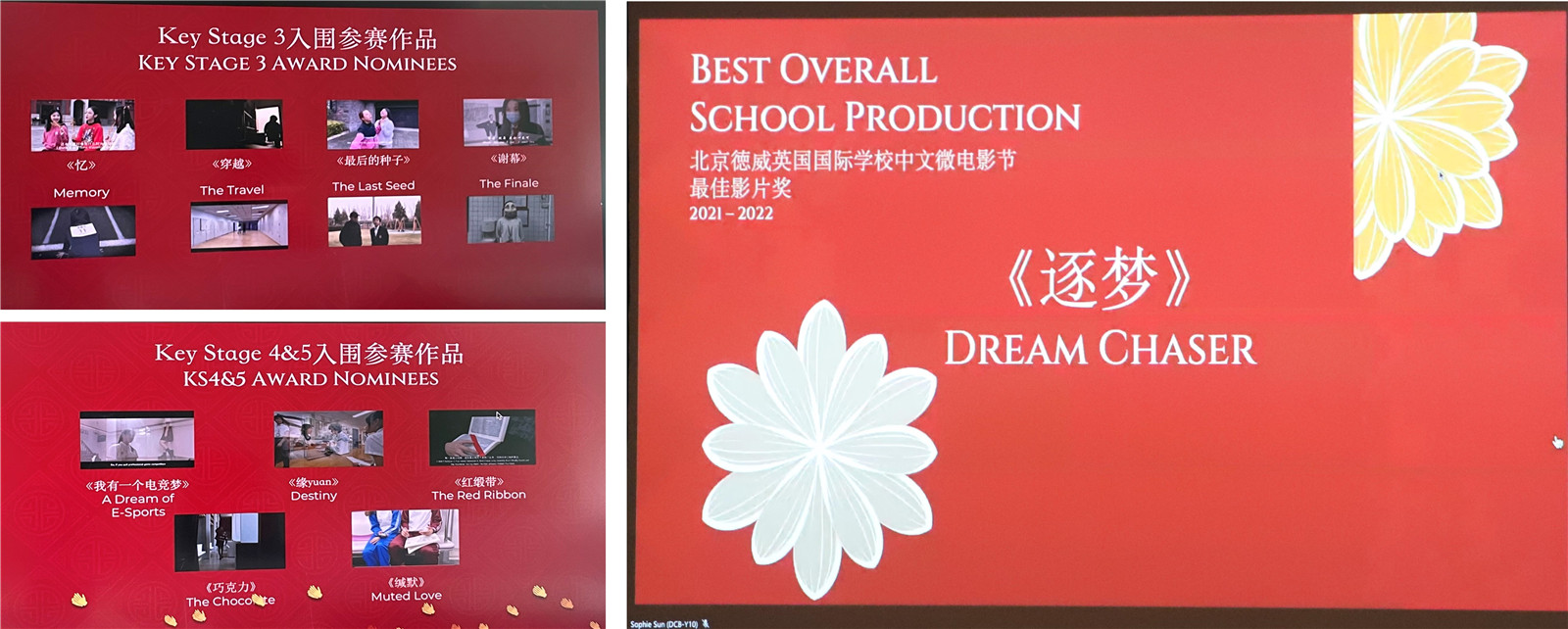 For this year's film festival, Senior School has invited famous directors and performing artists to review the students' works. The originality of the submitted works was positively commented on and highly encouraged by both experts and teachers. During the online award ceremony, Dream Chaser won the best film award. Sunny W from Year 8 shared her thoughts about winning the award: "As this is my first participation in the Dulwich Chinese Short Film Festival, I had to explore and try a lot of things. The Dream Chaser we made together this time is probably not a perfect film, but I finished the whole process from screenwriting to directing to filming and final editing. The things I learned from the process is far greater than the final finished product itself. Because it was my first experience, I encountered a lot of unexpected problems, but these experiences paved the way for me to participate in this activity in the future. I believe everyone involved in completing this short film must have got a lot out from doing this too. I would also like to thank all the teachers who have helped us in this process. I look forward to participating in the next Dulwich Chinese Short Film Festival!"