DCB University Acceptances 2018
Congratulations to all 95 students from the Class of 2018 who graduated last Monday, May 21. Dulwich College Beijing is very proud of a wide range of offers from universities worldwide that students have already received.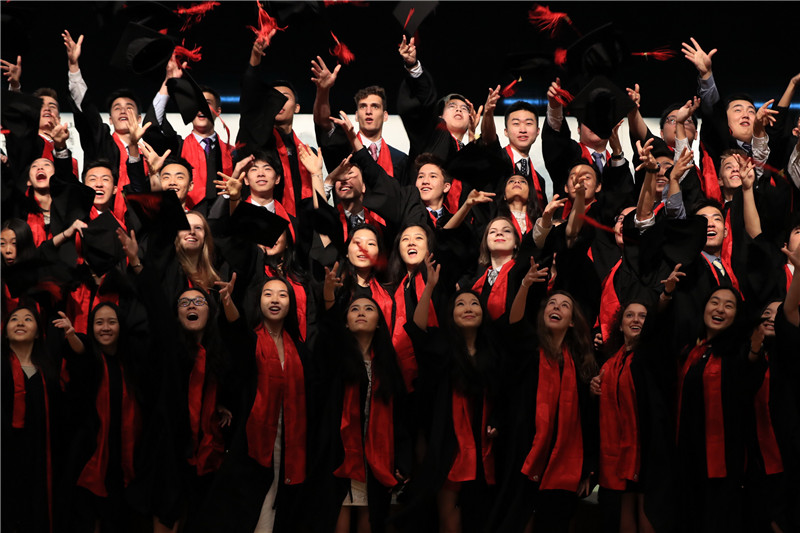 This year, 92% of students choosing UK as their university destination will attend Russell Group universities (24 of the UK's top higher education institutions promoting excellent teaching and research). The long list includes: University of Cambridge, University of Manchester, University of Durham, University of Leeds, University of Exeter, University of Bristol, University College London, Imperial College London and King's College London.
Our graduates opting for the US as their college destination have been accepted at the top research universities – Johns Hopkins, University of Washington, University of Chicago, UC Berkeley, Liberal Arts colleges - Bowdoin College and Brown University, as well as world-class art schools - Rhode Island School of Design and The New School: Parsons School of Design. We believe in the importance of best university fit for each of our students and are proud of all of their achievements from university offers to acceptance at the prestigious film programme at the University of Southern California and the basketball scholarship from UC Berkeley. And those heading to other destinations have excelled: from Peking University, to Hong Kong, to SNU, SKKU, Korea and Yonsei in Korea, to Sciences Politiques in France and to University of Melbourne, Australia.
Amsterdam University College
Arizona State University
Babson College
Bard College (2)
Barnard College
Boston College
Boston University (7)
Bowdoin College
Brandeis University
Brown University
California College of the Arts (2)
Colorado State University
Concordia University
Dickinson College
Drexel University
Fordham University (6)
Hong Kong University of Science and Technology
Hotelschool The Hague
James Madison University
Johns Hopkins University (2)
Keele University (2)
Korea University
Loyola Marymount University (2)
Maryland Institute College of Art
McMaster University
Newcastle University
Northeastern University (3)
Parsons School of Design (3)
Peking University
Pratt Institute
Queen's University
Rensselaer Polytechnic Institute
Rhode Island School of Design
Ringling College of Art and Design
Rochester Institute of Technology
Rutgers University-New Brunswick
Ryerson University
Santa Clara University
School of the Art Institute of Chicago (2)
Sciences Po
Scripps College
Seoul National University (3)
Simon Fraser University (2)
St. Edward's University
Syracuse University (3)
The American University of Paris
The University of North Carolina at Chapel Hill (2)
Tufts University
Universita Bocconi
Universiteit van Amsterdam
University College Utrecht
University of British Columbia (8)
University of Calgary
University of California, Berkeley (3)
University of California, Davis (9)
University of California, Irvine (3)
University of California, Los Angeles (3)
University of California, Riverside
University of California, San Diego (7)
University of California, Santa Barbara (8)
University of California, Santa Cruz (5)
University of Chicago
University of Colorado at Boulder
University of East Anglia
University of Exeter
University of Illinois at Urbana-Champaign (2)
University of Liverpool
University of Miami
University of Michigan
University of Minnesota, Twin Cities
University of Pittsburgh
University of Rochester
University of San Diego
University of Southern California (2)
University of Toronto (11)
University of Vermont
University of Washington (4)
Virginia Tech
Wake Forest University
Wesleyan University
Western University
Wilfrid Laurier University
Yonsei University
York University (2)
Conditional Acceptances
Boston University (College of Communication)
Cardiff University
Chinese University of Hong Kong, The
City University of London
Durham University (12)
Ecole Hoteliere de Lausanne
ETH Zurich
Hong Kong University of Science and Technology (4)
Imperial College London (9)
King's College London (12)
Lancaster University
Newcastle University
Queen Mary University of London (2)
School of Oriental and African Studies, University of London
The University of Edinburgh (4)
The University of Manchester (9)
The University of Nottingham (6)
The University of Sheffield (3)
The University of Warwick (7)
UCFB Wembley
University College London (18)
University of Bath (3)
University of Birmingham (2)
University of Bristol (4)
University of Cambridge (3)
University of Exeter (2)
University of Hong Kong (11)
University of Kent
University of Law
University of Leeds (9)
University of Southampton
University of St Andrews (2)
University of Surrey (2)
University of the West of England
University of Toronto
University of York (3)