DCB Celebrates Another Year of Stellar IB Results!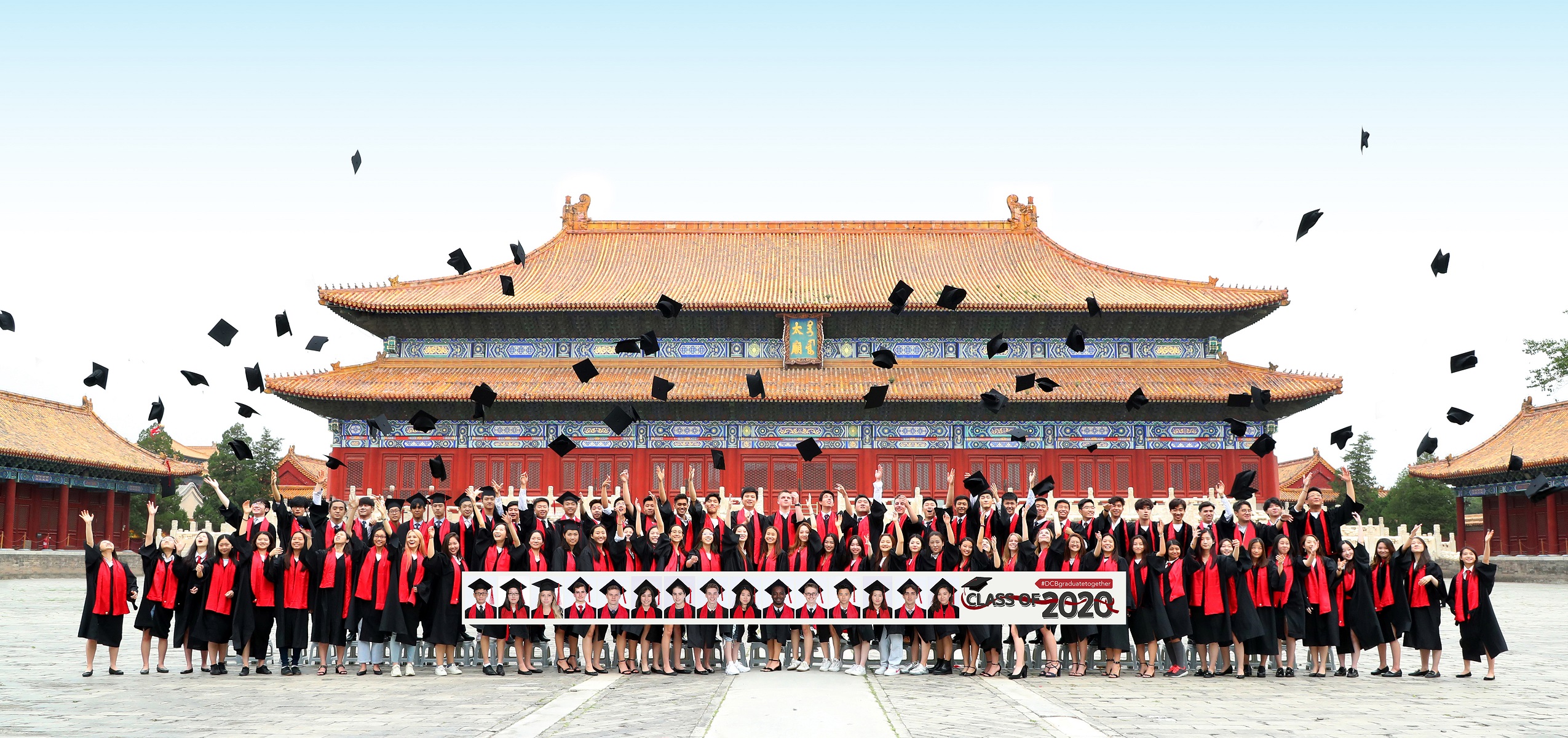 Congratulations to the Class of 2020 students for their stellar International Baccalaureate Diploma Programme results. In the 2020 assessment period, Dulwich College Beijing students averaged 38 points out of 45, significantly above the global average of 29.9. 37 students achieved over 40 points and 4 achieved 45 points, which is an outstanding and very rare accomplishment worldwide.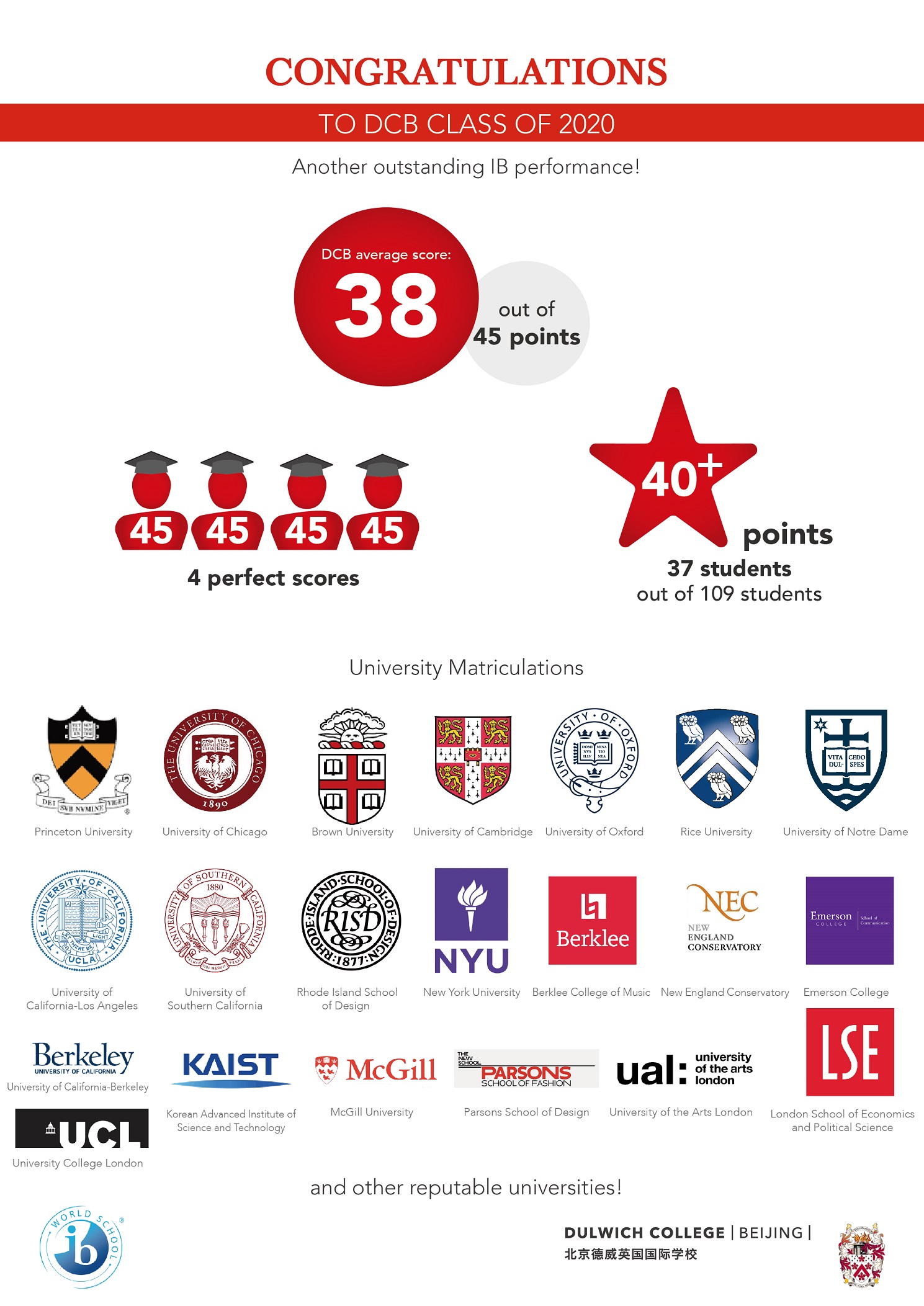 The Class of 2020 students boast 103 full diploma students, earning an internationally recognized diploma, and 5 Diploma Programme Courses students. All 108 students completed a rigorous and challenging programme over two years. Amidst the challenge of remote learning and COVID-19, these students completed their Internal Assessment and coursework for submission to the International Baccalaureate Organization for the May 2020 session. The award of marks in July 2020 recognizes their work, and these marks will allow our students to continue their education.

Students have received offers at Princeton University, University of Chicago, Brown University, Carnegie Mellon University, University of Cambridge, University of Oxford, London School of Economics and Political Science, Imperial College London, Korean Advanced Institute of Science and Technology (KAIST), Tsinghua University, Waseda University, and Sciences Po-University of British Columbia dual degree programme across diverse fields of study.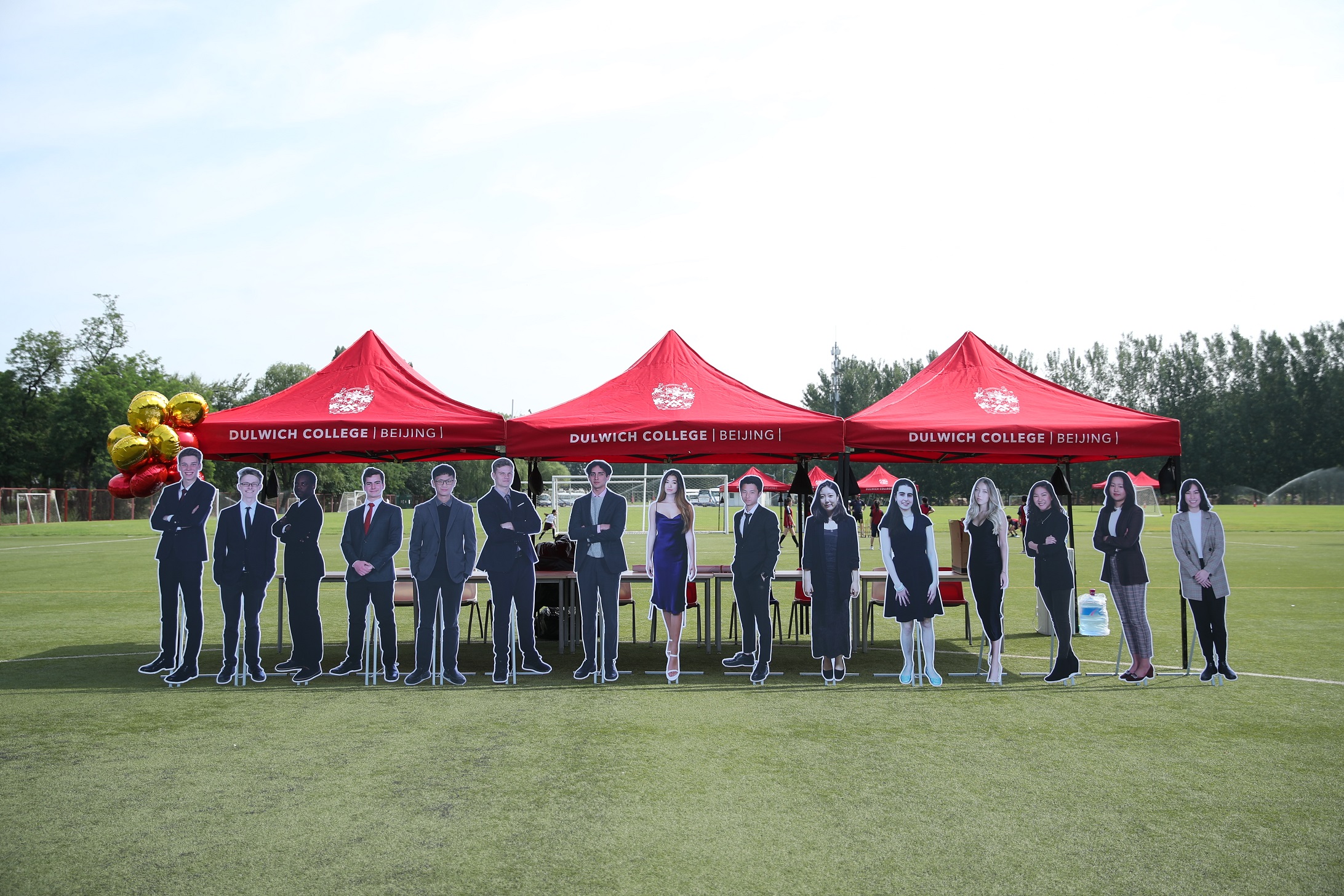 These results are a testament of our students' hard work, maturity as independent learners, impressive resilience – all hallmarks of a Dulwich College Beijing student. These strong results are especially significant given the unique circumstances our students faced this year due to the coronavirus outbreak. They have also grown in the characteristics of empathy, critical thinking, creativity, risk-taking, and global citizenship through a variety of CAS activities over the two years.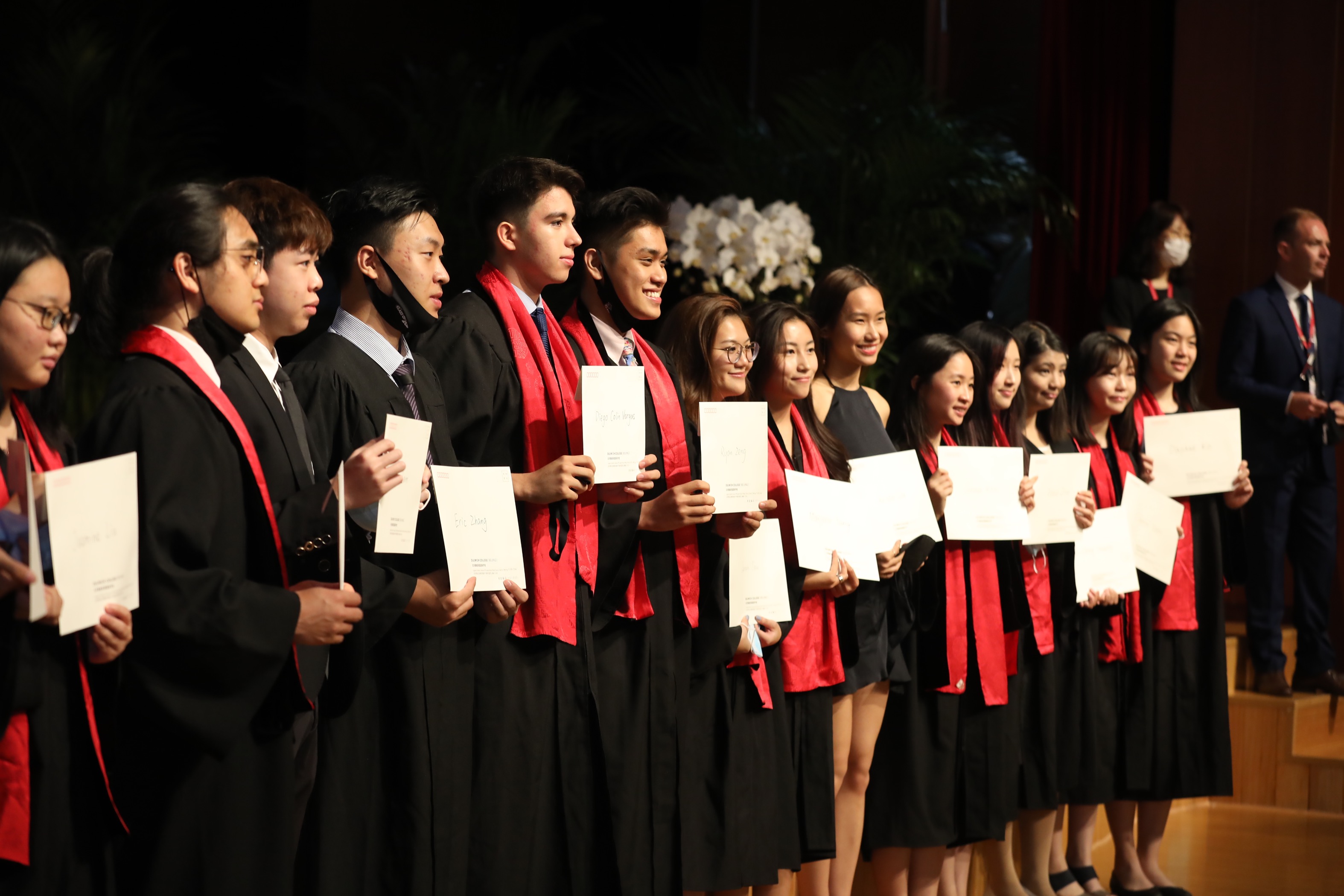 Headmaster Simon Herbert said, "I am absolutely delighted for our graduates. They have gained superb results which reflect their commitment throughout their time at DCB. I would like to thank their teachers, form tutors, parents and all those who have supported them on their journey. This year has been an exceptionally trying experience, especially for exam grade students, and I admire the way these young people have handled themselves. I wish them all the very best for their next exciting ventures."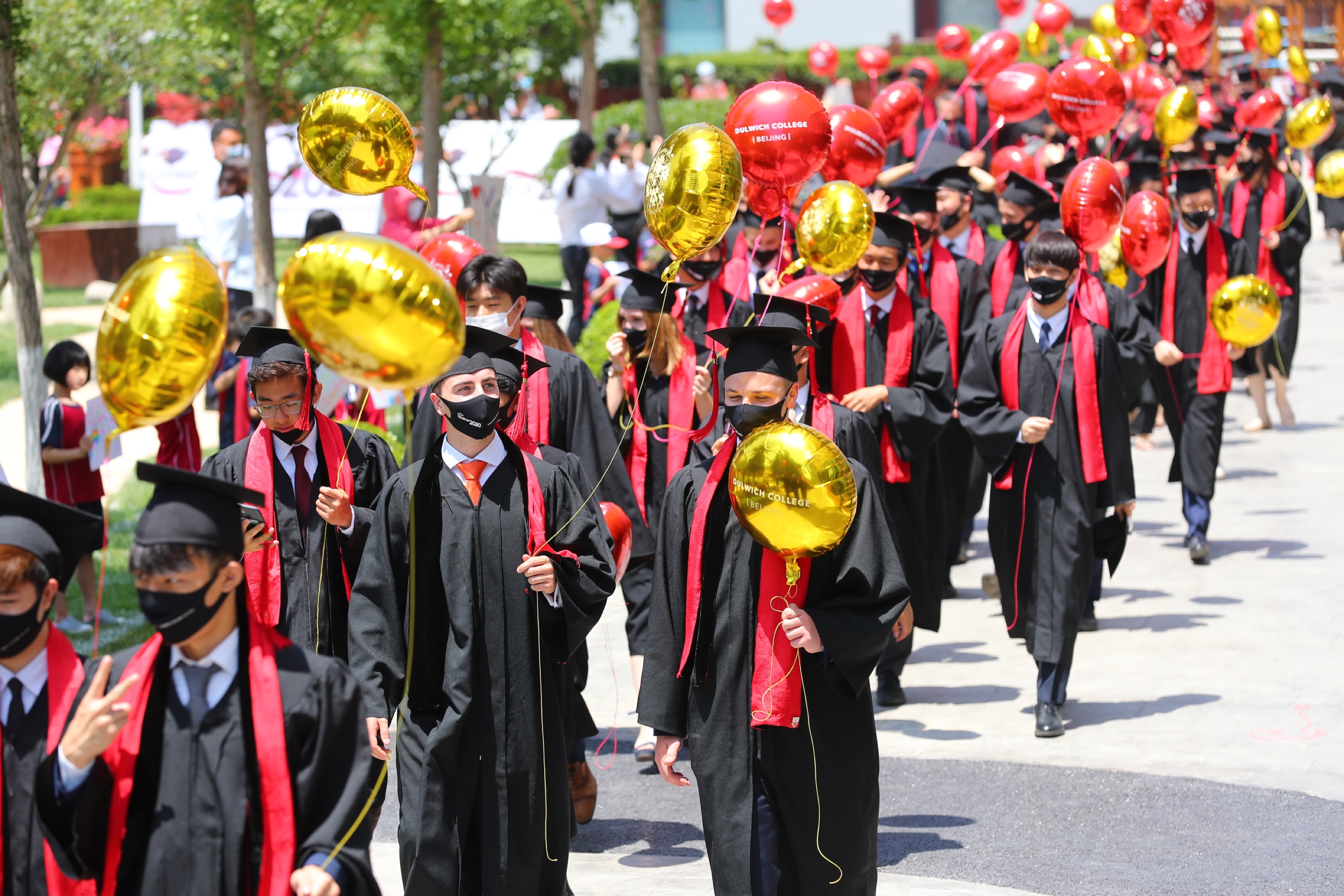 "At DCB, academic excellence was so sought after that it was an expectation by default. This unique environment allowed me and many others to focus on what I think are DCB's real strengths: cultivating and fostering passion," said Othneil G. "Being exposed to so many experiences I never would have otherwise has undoubtedly moulded me into the person I am, whether those experiences be performing on stage or coughing up a lung on a mountain top. You only go to school once and at DCB you have the rare ability to try things. So that's what Dulwich, family, friends, teachers all included, have helped me do: turn things I try into things I do."
These results also represent the collective efforts of the whole faculty including the Senior School teachers, university counsellors and the pastoral team. They worked with the parents in unison to create an exceptional environment to nurture the students' mind, body and spirit.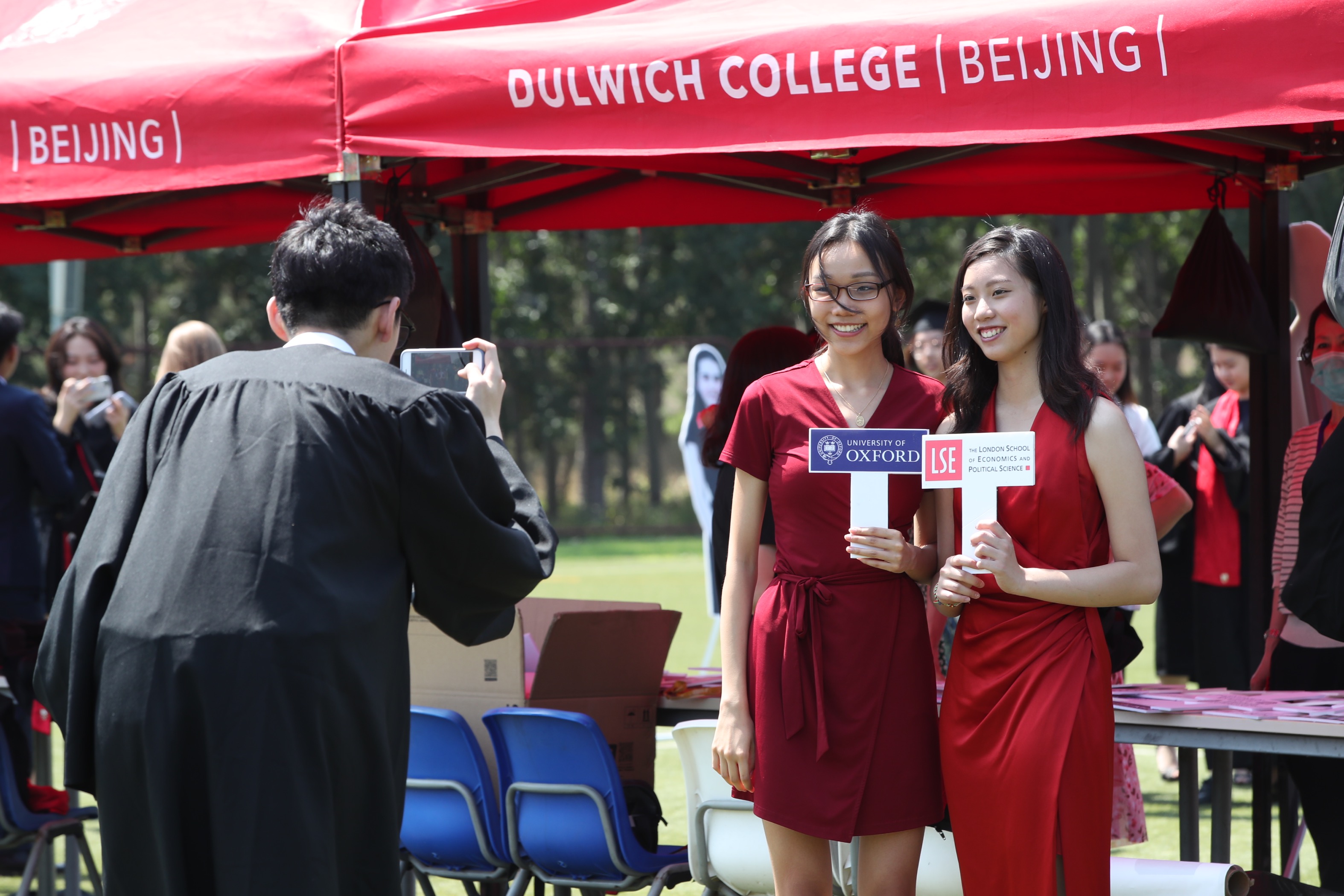 "A huge THANK YOU to all the family, friends, and staff who've helped me survive the two-year trial by fire that is the IB. Congratulations as well to everyone in the class of 2020 - it's truly been an extraordinary senior year," said Jennifer Z, the Deputy Head Girl and one of the three toppers achieving 45 points this year.
Sarah S said, "DCB is like a warm fuzzy blanket. From passionate teachers to supportive friends, we have grown to become young adults with our own minds."
"My journey at Dulwich has taught me a multitude of lessons ranging from succeeding in academic endeavours to flourishing beyond the classroom through extracurricular pursuits. But most importantly I have realised that Dulwich is a community of people and not a place," said Edward L. "Regardless of where each and every one of us end up, we will all carry a piece of Dulwich with us through the lifelong bonds we have formed with both our mentors and peers."
"Graduates, be proud of all that you have achieved and the hurdles that you have overcome in this extraordinary year. Be confident in your capacity to thrive beyond DCB," said Rachel Edwards, the Head of Senior School when she was addressing to the Class of 2020. "Reflect on how you arrived here, what you have learned about yourself and who helped you along the way. My sincere thanks to all staff, past and present, for challenging and supporting these fine young people and to all our parents who were with us and them every step of the way."
We are proud of each and every one of our Class of 2020 graduates, who we know will continue to live our values and make their mark on the world.