DCB Class of 2023 Achieves Stellar IB Provisional Results!

Dulwich College Beijing is proud to announce our Class of 2023's spectacular International Baccalaureate Diploma Prograpmme (IBDP) provisional results!
Here is a summary of the key highlights:
This year, DCB students achieved an impressive average of 36.8 points out of 45, far above the global average of 30.24.
38.6% of students scored 40 points and above.
2 students achieved a full score of 45 points.
83 students received the full IB Diploma, representing a 99% IB Diploma pass rate.
30 students received the prestigious Bilingual Award.
4 students received full scores in Mandarin.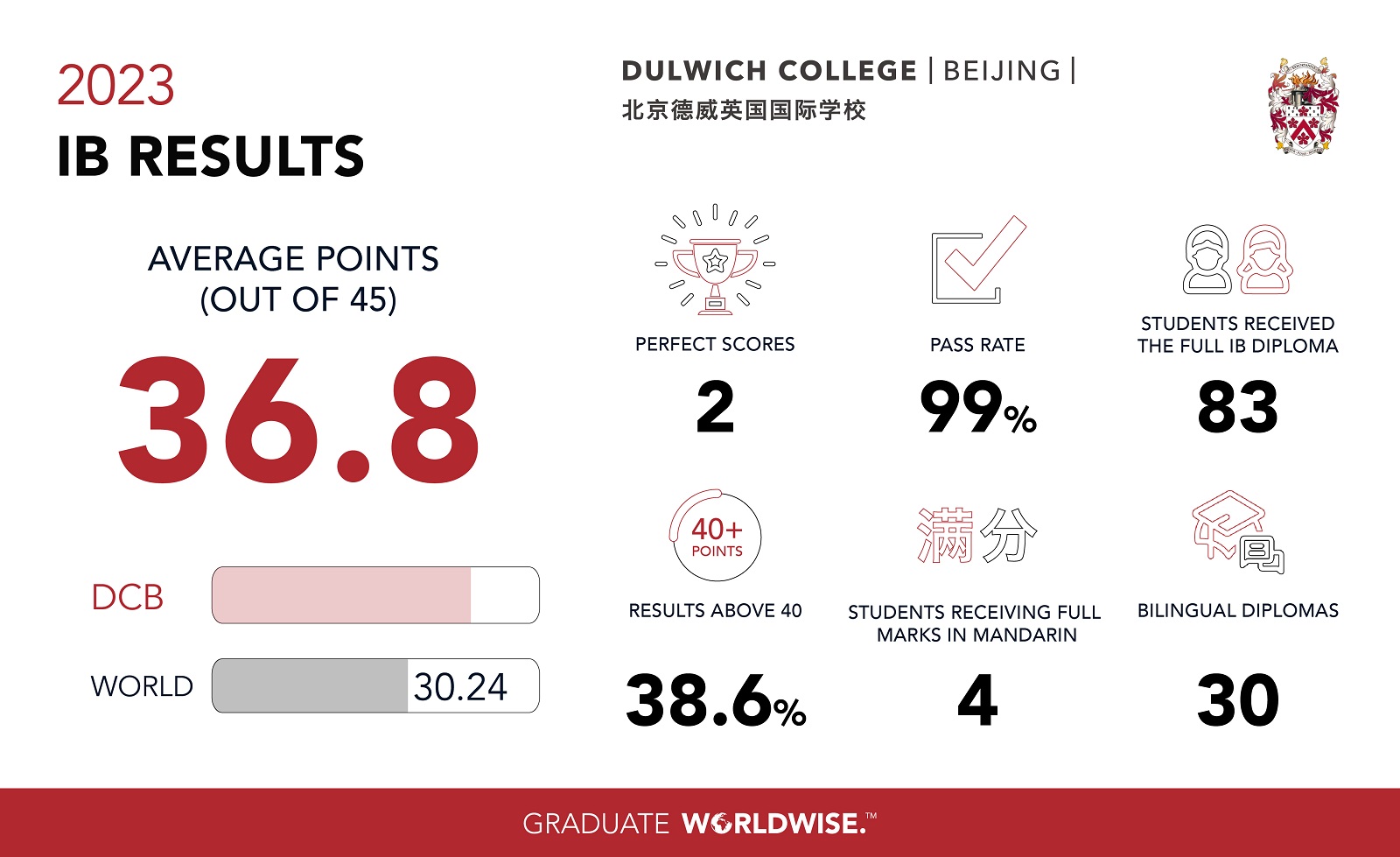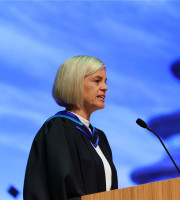 Our students have performed at an exceptional level in their IB Diploma despite the challenges they faced in 2021," said Clare Anderson-Au, DCB Head of Senior School. "The IB removed all considerations of the pandemic for the class of 2023 and yet through resilience and perseverance they have excelled. We are all so proud of them.
- Clare Anderson-Au, DCB Head of Senior School
"Our Class of 2023 has continued our tradition of excellence in the International Baccalaureate Diploma Programme, with our students achieving these outstanding results," said Anthony Coles, DCB Head of College.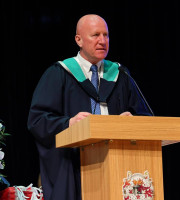 The results are impressive on their own, but only tell a small part of the story. Each student has gone through their own personal journey of growth by developing their character and skills to overcome their own challenges over the last two years. Our students have not only achieved remarkable academic success but have also developed important life skills; including critical thinking, empathy, and international mindedness, which will serve them well in their future lives.
- Anthony Coles, DCB Head of College
As there might be remarking of certain exam scripts after the initial release of the results, we are expecting slight changes in some of the data at a later stage. Therefore, the current results are provisional, and we may publish an updated announcement later if such changes occur.
The outstanding IBDP provisional results speak again of the excellence and resilience of our DCB students, as well as the great support from the community. "As we celebrate these outstanding achievements, we are expressing our gratitude to the parents, families and staff who have played their role in supporting the students throughout the two-year programme," said Anthony Coles. "The home-school partnership has been pivotal in creating an environment where students could thrive and be their best."
Live Worldwise with Dulwich College Beijing
Our students in the Class of 2023 have already received offers from prestigious universities across the world and some of them have been accepted to popular and very unique majors. Below is a list of universities our students have received outstanding offers from: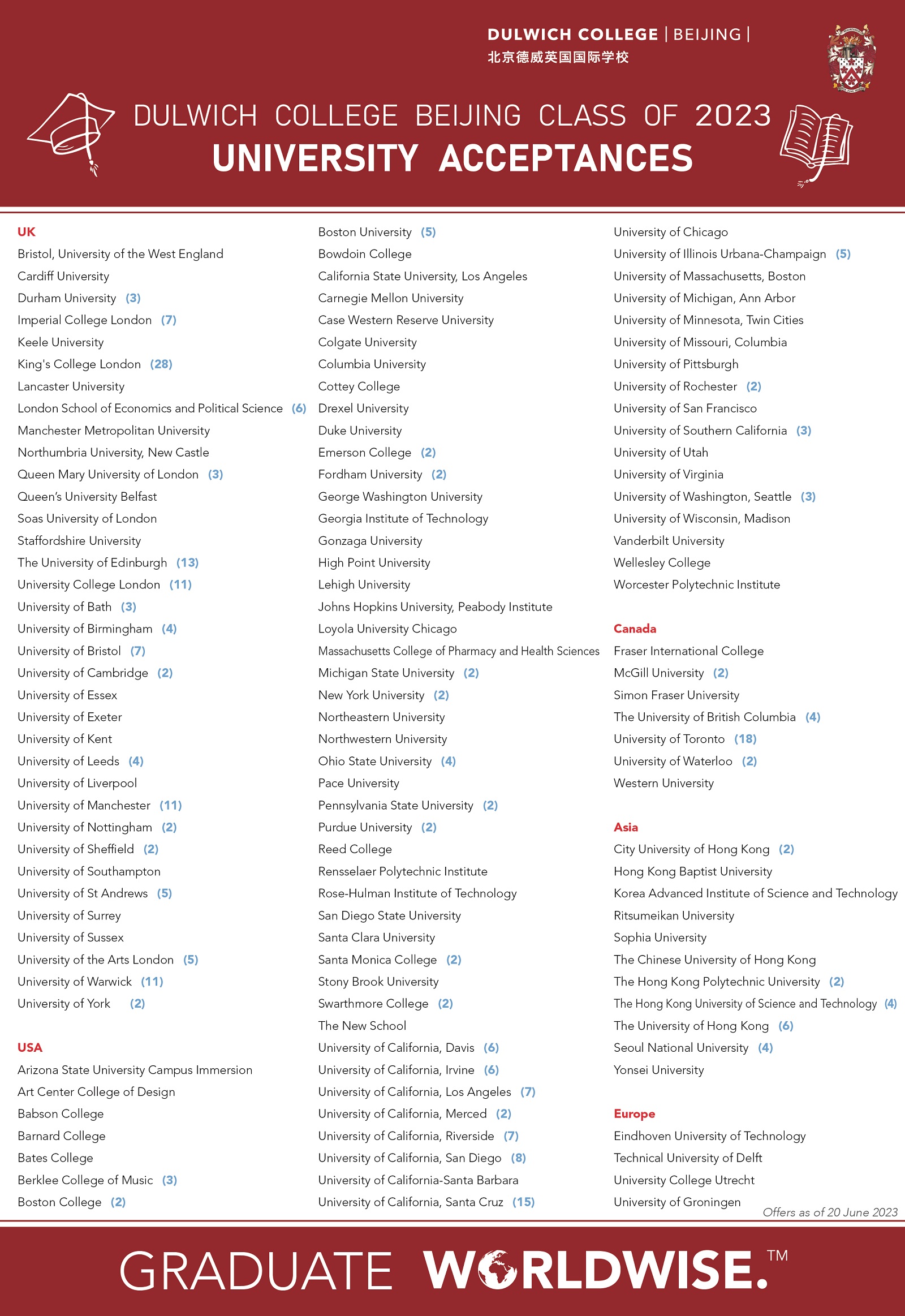 Matriculation destinations will be finalised in autumn to account for the application seasons of South Korea and New Zealand. Congratulations to Class 2023 – we're extremely proud of you and look forward to the great things you'll do!