United Colours at DCB: New Logos Bands Houses Across DCB Schools

For the first time at DCB, our students and their Houses are unified across schools in a reimagined House system that connects our littlest, fresh-on-the-boat DUCKS to our more Worldwise Senior School students.
In preparation for this, DCB's CLT (College Leadership Team) collaborated with the different House Captains to launch the hunt for our new logos that would represent the same House across the three schools.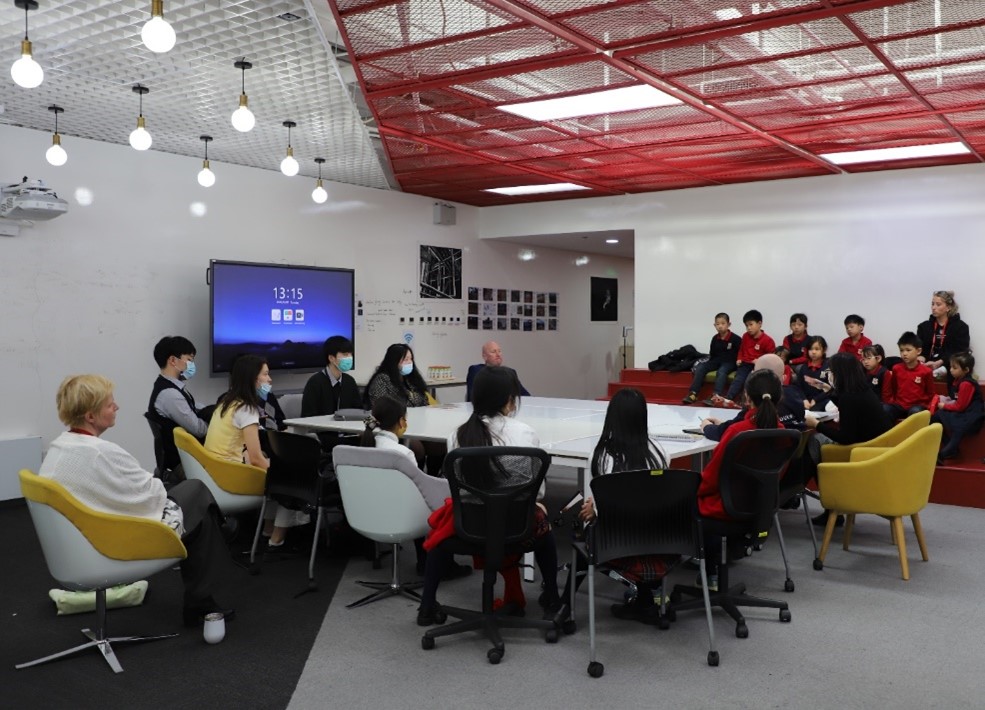 New House Logo meeting between CLT and House Leaders of DUCKS, Junior and Senior Schools.
New (School) Year, New Look
Previously, Houses from Junior School and Senior School had their own logos. With the induction of the DUCKS into the new House system, unifying Houses across schools with a shared visual branding was an opportunity to strengthen our student community across age groups.
A long-held British tradition, the House system is an integral part of our pastoral care structure which sees students sorted into one of five Houses that serves as their community groups throughout their stay at DCB. As our Head of College Anthony Coles shared, ''In order to learn effectively, young people need to feel safe and supported. Their sense of belonging to a community is so important because school is a very complex process of development for children and young people… And now that every DCB student belongs to a House, a team, a family within the College, we will be able to connect all students across the three schools via these Houses."
Houses of different schools have a different set of leaders, who congregate to discuss important decisions – decisions like a new House logo.

Retired House logos at Dulwich College Beijing.
But choosing a logo – and one for a diverse community across different year levels– is no small feat. It's a visual image that in one glance, shows the values and identity of a brand, group or community to differentiate themselves.
So how did they come up with it?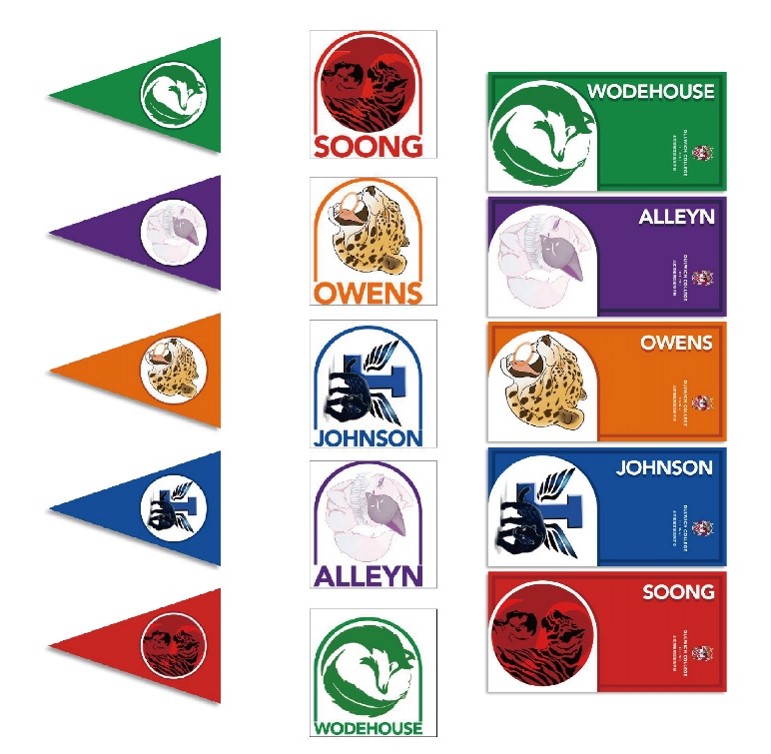 Our new banners by our designers in Senior School.
The Search for the New Logo
The plan for a new logo was first shared during a meeting with the House Captains from the different schools. "We had about three to four meetings – kind of like a focus group – with the students," shared Ms See Kay Leong, Director of Admissions and Marketing at DCB. She is one of the members of the College Leadership Team (CLT) who initiated the conversation with the students.
"When we met with them, we asked them what their Houses meant to them." By this, Ms Leong was referring to the inspirational and accomplished people symbolised in their Houses: Edward Alleyn, Sir Pelham Grenville Wodehouse, Jesse Owens, Soong Ching-ling and Amy Johnson.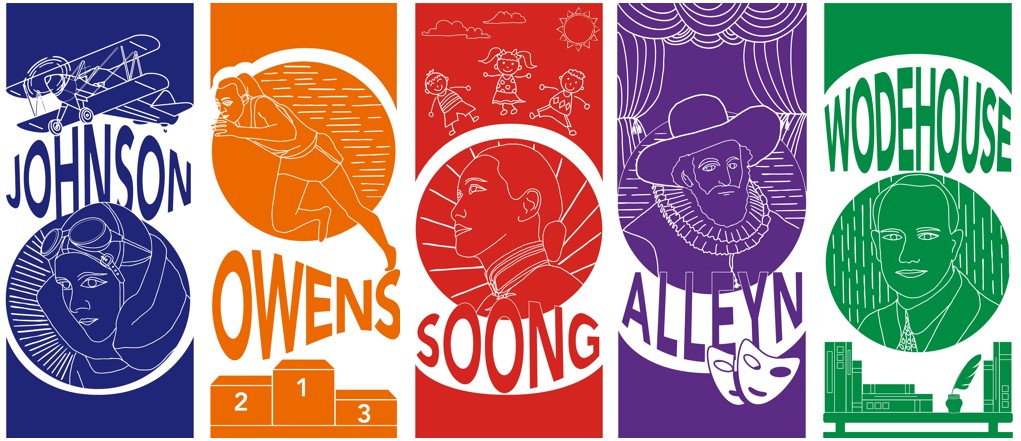 The inspirational individuals our Houses are named after.
At each meeting, DCB's Leadership Team would ask the House Captains questions, questions they would later discuss with their House members and whose feedback they would share back with CLT. Ms Leong also added that in subsequent meetings, other questions they asked feedback on was what was important for them in the logo and what elements did they feel it should have.
By the third meeting, the students had brought with them a draft of how they wanted their logos to look like. After receiving further feedback from the College Leadership Team, they returned with their final drafts which was then put to a vote throughout their respective Houses.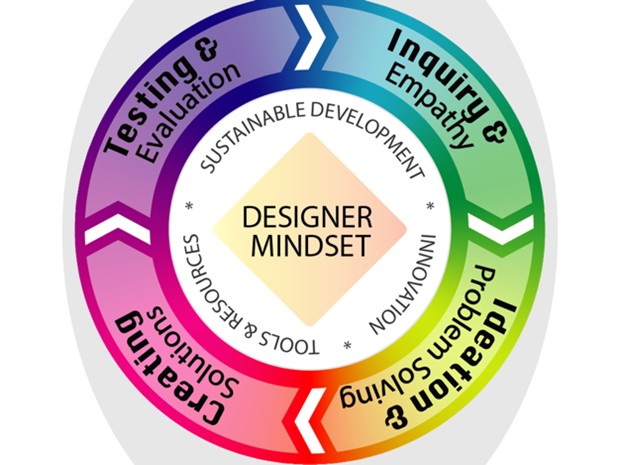 To simplify the process, Ms Leong suggested using the design cycle as a framework to guide the students in creating the design of their logo.
"The process of choosing the final House logo was an extremely tough one," shared Apple L, who was last year's House Captain for House Alleyn. "Many students dedicated their time and talents to put forward their designs. Therefore, the voting for the final mascot logo that best represents Alleyn's House spirit and community was extremely difficult."
But a decision had to be made, and Alleyn decided on the Artic fox mascot logo designed by Alice X (Y12), Apple L (Y13), and Iris S (Y12). The new logo was inspired by the original logo – an alien – and the founder of Dulwich College, Edward Alleyn. "The Artic fox has a mask with a closed eye representing the mystical aspect of the alien and the slightly darkened fur in symbolising the distinctiveness of every Alleynian. Edward Alleyn, whom our house name originates from, is also illustrated through the element of the ruffles around the neck. Hence, all Alleyn members with this new badge will continue to create new miracles on the stage of House competitions, and may the new mascot accompany Alleyn to continue Alleyn's legacy in the following academic years."
Owens House Captain Andrew M found the process an enriching one. "During the discussion with Mr Coles and Junior School, we brainstormed objects, themes, and designs that would represent our house."
"For Owens, we focused mainly on the track runner our house was named after: Jesse Owens. Owens won an abundance of gold medals during a period of racial discrimination and conflict in the 1936 Berlin Olympics, his perseverance and drive to win inspired him to succeed against all odds. Taking notes from this, Sunny W, Ashley D, and Kalli Y from Year 9 set out to design the logo that would perfectly demonstrate Jesse Owen's qualities; and reflect it upon the rest of the house.
The final product resulted in a picture of a Cheetah holding the letter 'O' in his jaws. As the cat predator is notoriously known for its unbelievable acceleration and speed, we represented Owens in the form of an orange cheetah, also reflecting our house colour.
I would like to thank Sunny and everyone who contributed to making this project come true and creating hand-made logos that specifically represented the core values and roots of each house, a big up for everyone involved!"
Learn more about what the inspirational individuals our Houses are named after by clicking here.
School Heritage