Year 10 Student Ranked Ninth Worldwide at Computing Challenge.
We would like to congratulate Eddy in Year 10 on his outstanding achievement in this year's Oxford University Computing Challenge (OUCC 2021) finals. Eddy began his journey early this academic year as he achieved a Distinction award in the annual BEBRAS computing challenge. Together with 90 other DCB students, he qualified to compete in the first round of the Oxford University-sponsored contest. Eddy achieved an outstanding result and placed in the top 20 in the Senior category, mostly competing against Year 11 students across the world. Eddy secured ninth place in the final round of the competition, finishing an amazing personal journey!
We had the pleasure of meeting Eddy to learn a little more about him!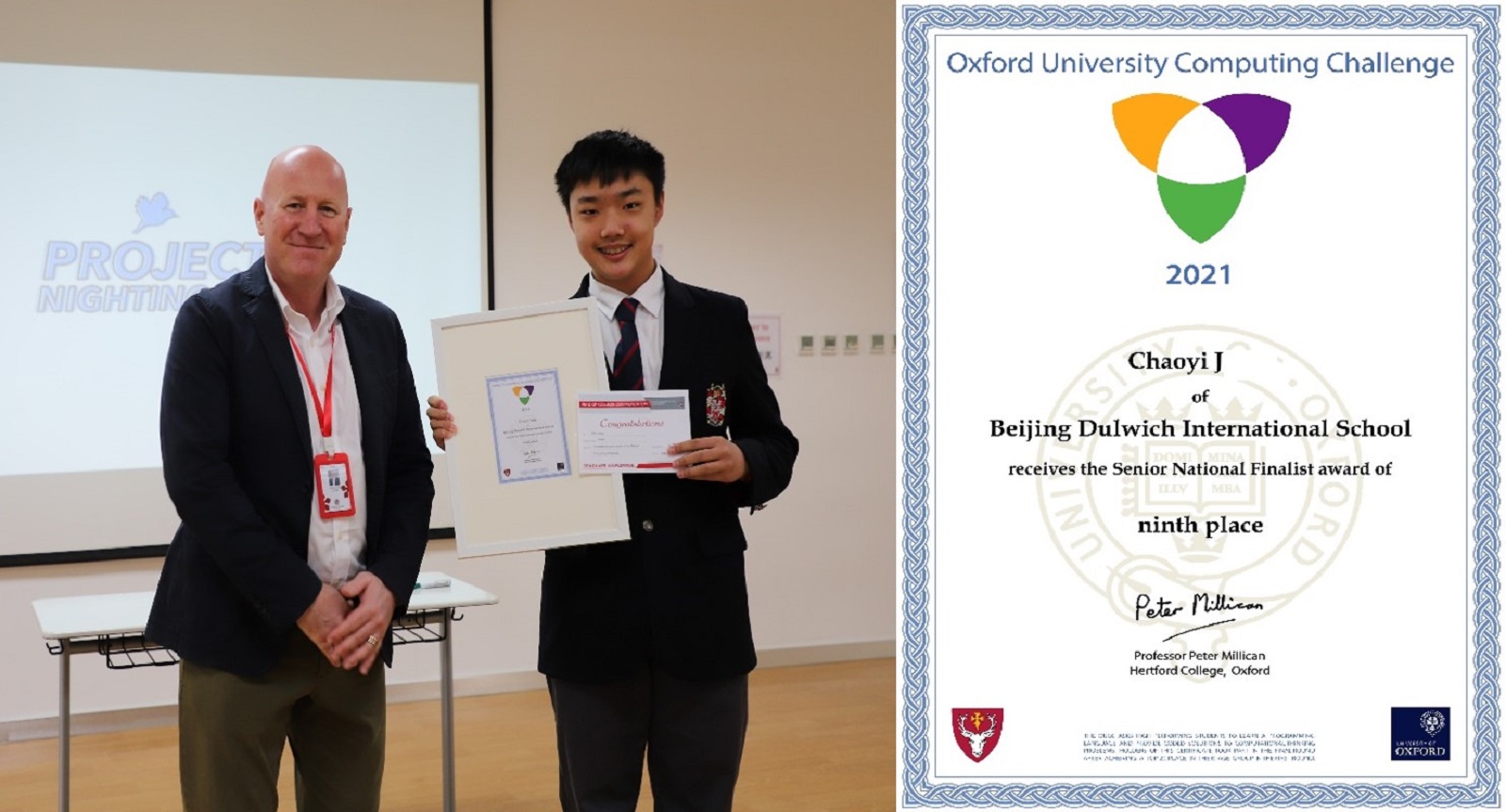 1. How do you feel about your participation in OUCC and your achievement?
I've participated in these challenges since Year7 and made the finals three times out of these 4 participations. I tend to set high expectations for myself, however, I realise it's not healthy to constantly stretch myself. I'm really happy I achieved 9th place, even proud because these challenges are definitely not easy, both technically and mentally.
2. How did you prepare yourself for the competition?
I have competed in other events such as USACO (USA Computing Olympiad) and they are really, really, hard. So, I know I need good preparation to achieve a good score: I push myself a little and I feel it's necessary to step out of my comfort zone when I get prepared. But I have learnt that it is very important to remain calm and focused during the actual competition. In other words: stress before but not during the event, or as my parents put it: "谨慎,别紧张。"
My preparation itself is a mix of technical preparation like going through past papers to get used to the types of questions, and mental preparation to stay focused on the day. As you know, programming skills are built up over time, with 50% coming from the actual technical skills, and 50% coming from the thinking process. I usually prepare on my own in a quiet environment to remain focused and avoid potential distractions.
3. What would you tell your peers to encourage them to engage in similar challenges?
It is all about passion. I discovered Computer Science when I was in Year 1, and started to be involved in more complicated programming in Year 4 when my mom mistakenly signed me up for a Python programming workshop intended for older children. But when it came to the final contest of the workshop, at the age of 9, I defeated my 14-16 years old peers, and it really motivated me to keep going. This is how I really started learning about programming and discovered how I enjoyed doing so. Enjoying what I do helps me to learn and improve a lot faster, so my top tip would be to do what you enjoy and enjoy what you do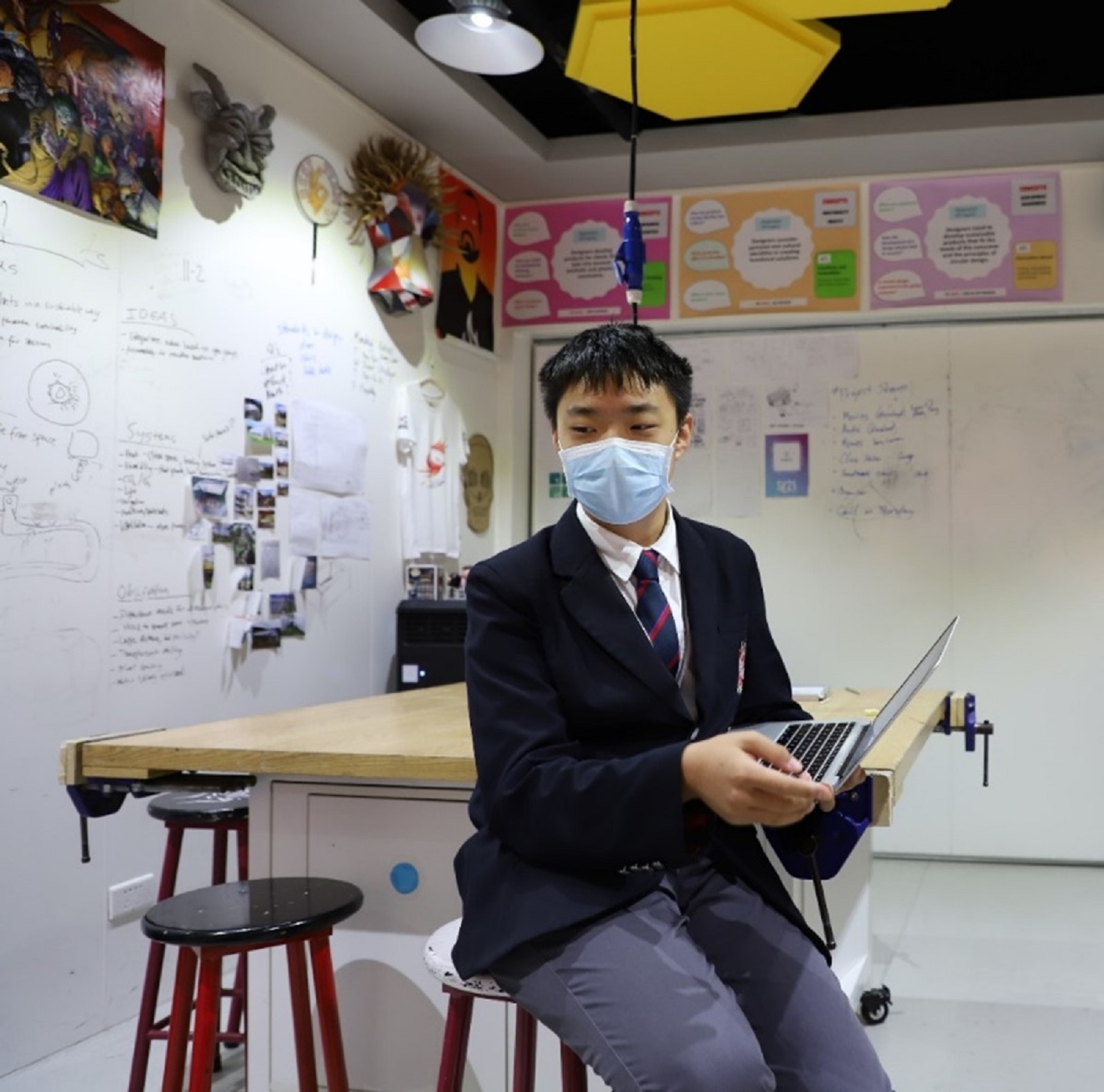 4. Is there one thing or one person who particularly inspired you to pursue your interest in Computer Science?
My exposure to simple Computer Science in Year 1 is what led me to where I am today. Most importantly, my parents were always supportive of my interest and they've always encouraged me to pursue this interest further.
A person who inspired me a lot was Ms Stevens, former Head of Technology here in DCB when I started participating in competitions. She has always encouraged me to move forward and recently sent me her regards through my teacher. Knowing a former teacher still knows what I'm up to is really motivating. Having my family, my peers and my teachers' support certainly pushes me to continuously improve.
5. Where do you see yourself 15 years from now?
Big corporate companies like Microsoft and Google are integral parts of our life, so I feel I could work there. I've had the opportunity to visit the Microsoft headquarters in Seattle, and that was really appealing to me. I can also project myself in the field of automated cars. When I think about the goals of a job, it would be to create and enjoy. For me, working in Computer Science, or Technology in general, would mean I could create something to change people's life which I really enjoy, so I'd feel lucky about that. I really see myself in a big technology company, or even NASA. I would love to explore the space in a rocket I would have designed!
6. Quick choice of words.
Cat or Dog? Cat. They can sometimes be too independent, but dogs seem too demanding for me.
Great Wall or 798? 798. My mom is in the Arts field, so I want to show her the same support that she has always shown me. It's a way to encourage each other and share our interests.
Analysis or synthesis? Analysis. Computer Science competitions have a lot of little traps to differentiate between candidates, so it's important to pay attention to details. I also enjoy problem-solving and that usually requires analysing input. I really enjoy books like What If by Randall Munroe, which involves scientific analysis to solve absurd hypothetical questions.
Marathon or sprint? Marathon. My mom is a marathon-runner while my dad runs semi-marathons. My parents show me the value of perseverance and endurance, both mentally and physically. I find a lot of satisfaction in completing a challenge after pushing myself.