A Reflection on the University Applications Journey – Episode 3
We are happy to introduce a new series of interviews: A Reflection on the University Applications Journey. A handful of Year 13 students share their insight and advice for determining their own pathway for planning, preparing and applying for university applications. In the previous episodes, students share their insights on topics like best student-university fit, early applications, and time management. In the last episode of this series, you will read advice these students have for younger students and their parents. These experienced students also share about the support they have received along their journey at Dulwich College Beijing.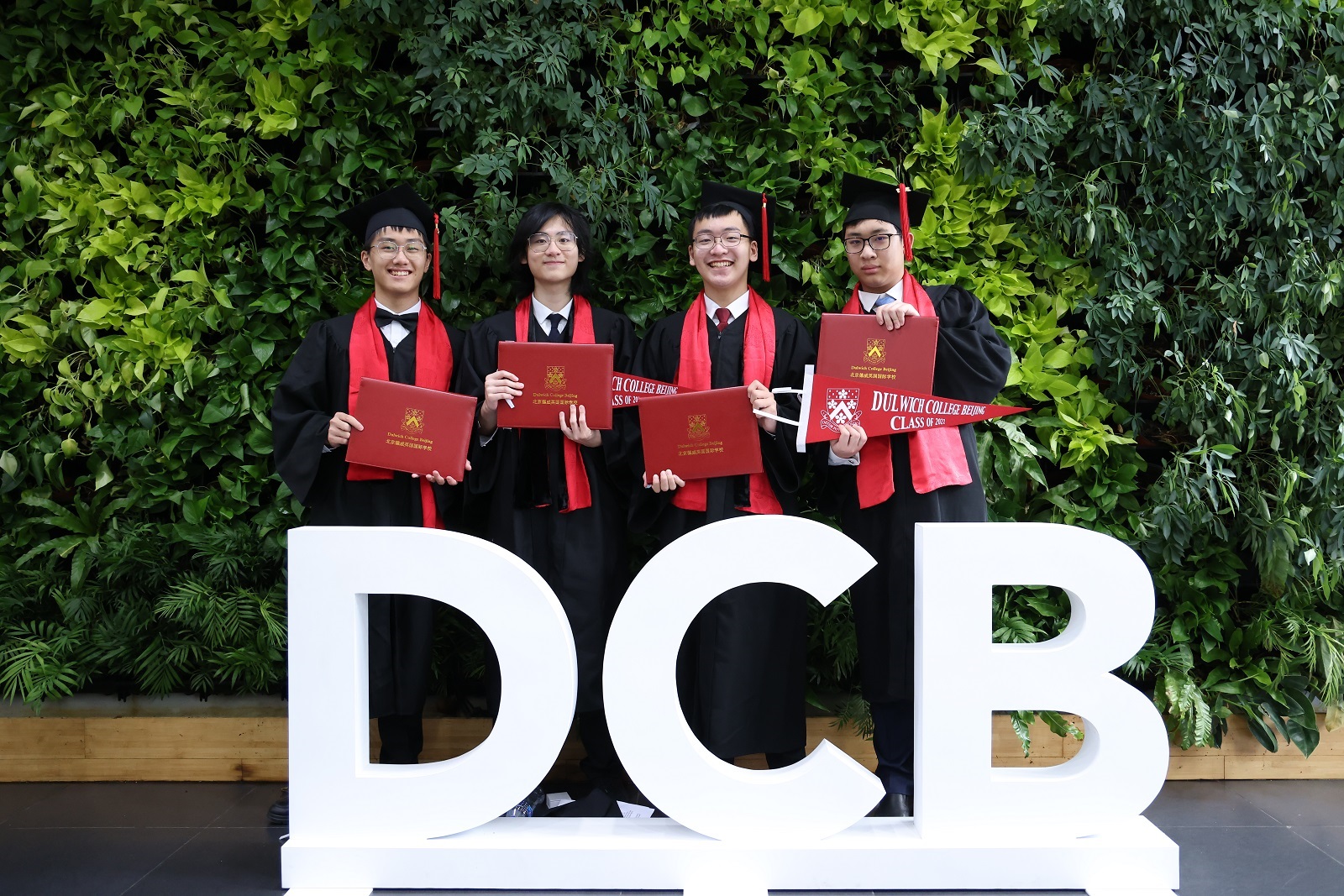 1. What advice do I have for younger students and their parents?
Reflecting on the entire process, our Year 13 students share a few words of wisdom. While they highlight the importance of strategic time management, choice of IB options, and university research, they also point out fundamentals such as keeping an open mind and prioritising their own endeavours over parents or peer pressure.
Yiming S: "My main advice for other students is to allocate their time well. Essays take a lot of work and time, so make sure you start as early as possible. It's never a good idea to submit one minute before the deadline because you were tweaking your essay up until then. To parents, I would say be supportive. It is a highly stressful time for your kids, and any pressures and expectations you place upon them will make it worse. Let your kids choose where they want to apply and what they want to study, and put your resources into helping them achieve what they want rather than what you've decided for them."
Jefferey W: "When selecting universities to apply to, it is essential to get current students' or alumni's input about the university's environment and its academics. Additionally, since the abundance of universities worldwide offers a wide range of unique specialities, it is crucial first to understand the experience you wish to gain from college and then identify suitable choices."
Pia M: "Don't let your peers and parents influence your decision too much. You need to be happy with where you will live and study for the next 3-4 years."
Justin W: "My best advice is to figure out a major before IB to strategically choose your IB HL courses and SL courses and make IB much easier. And also, to positively contact your university."
Rino F: "Start early! For students who have no clue what they want to do in the future, my advice would be to talk to as many experienced adults as possible and listen to their stories. Another thing (to both students and parents) is to be open-minded. Don't limit yourself to one specific area or career option because your interests might change over time."
Natalie W: "For students who intend to study in countries like the UK, IB subject choices matter a lot because many majors require specific subjects at a higher level."
Helena Z: "Highlight and establish your 'spike'. A 'spike' is something distinct about your profile, like a very clear interest or deep levels of engagement in a particular area. At first, I was told that it's important to be well-rounded (to try to be good at everything equally), but if everyone is well-rounded… then 'spikes' are what set you apart."
2. Who played an essential role in supporting me?
Although high school graduates all seem to know what they want to do, students come into IB with different maturity levels and motivation for their future endeavours. And this is perfectly fine! At Dulwich College Beijing, subject teachers and university counsellors are there to inspire and guide them throughout the process.
Yiming S: "I'm most thankful for my music teachers, who have guided me both in and outside the classroom. Performing and leading groups has been one of the most rewarding experiences at DCB and has undoubtedly helped me boost my confidence and creative expression."
Jeffrey W: "All of my subject teachers were incredibly supportive of my application during app season. My teachers pushed me to attain the best I could and offered me immense support when I stumbled upon setbacks. My university counsellor also offered me tremendous support before and during app season. He helped me narrow down my university list and identify suitable universities based on fit. When it came to application season, he gave me detailed feedback on each of my main and supplemental essays to ensure that they accurately reflected my strengths and personality and were on par for submission."
Pia M: "We are fortunate to have access to university counsellors. Meet with them as much as possible, and always come with questions!"
Rino F: "Throughout my IB years, I established a closer relationship with my subject teachers, university counsellor, and Crimson mentors. They mainly gave me essential information such as dates and deadlines for my application process and feedback on my personal statement and portfolio."
Natalie W: "I have been meeting regularly with my DCB university counsellor throughout IB and received a ton of guidance and advice, ranging from IB subject choices and activities to college essays, for which I am very thankful!"
Helena Z: "I mainly received support from my university counsellor in school and Crimson to help me narrow down my list and finalise my UK personal statement. Crimson was really helpful with finding my narrative and interview preparation. I talked about my potential major and plans with my teachers, which helped consolidate my plans and goals. They also gave great advice in terms of reading materials!"
Angelina D: "My university counsellor was really helpful in helping me through the UK application process. I also knew that I wanted to take a gap year before beginning my university studies, to explore some areas of study by myself outside of physics, such as chemistry, biology and history, to learn a bit more without the pressure of exams/getting a grade. I also want to spend more time with family. So it was nice to have people at school understand that priority and support my plans for a gap year."
University applications result from a long and personal journey in which students patiently put together the building blocks of their knowledge, experience, and own aspirations. Senior school students receive guidance and support from their subject teachers and university counsellors at Dulwich College Beijing. Open discussions at home and family alignment with student needs enhance their peace of mind by enabling them to focus on their aspirations and optimise their time and energy before and during the application season. This can make the journey easier for students and parents alike!
Recommendation