The University of Notre Dame signs MOU with DCB
The University of Notre Dame signed a memorandum of understanding (MOU) with Dulwich College Beijing (DCB) to initiate international partnership and further develop academic collaborations and exchanges. The agreement was made official during a signing ceremony on the campus of Dulwich College Beijing on Wednesday, 12 October 2022. Notre Dame faculty and staff participated in the ceremony virtually. DCB leadership team and Notre Dame Beijing Global Gateway representatives witnessed the memorial moment at the Wodehouse Theatre of Dulwich College Beijing.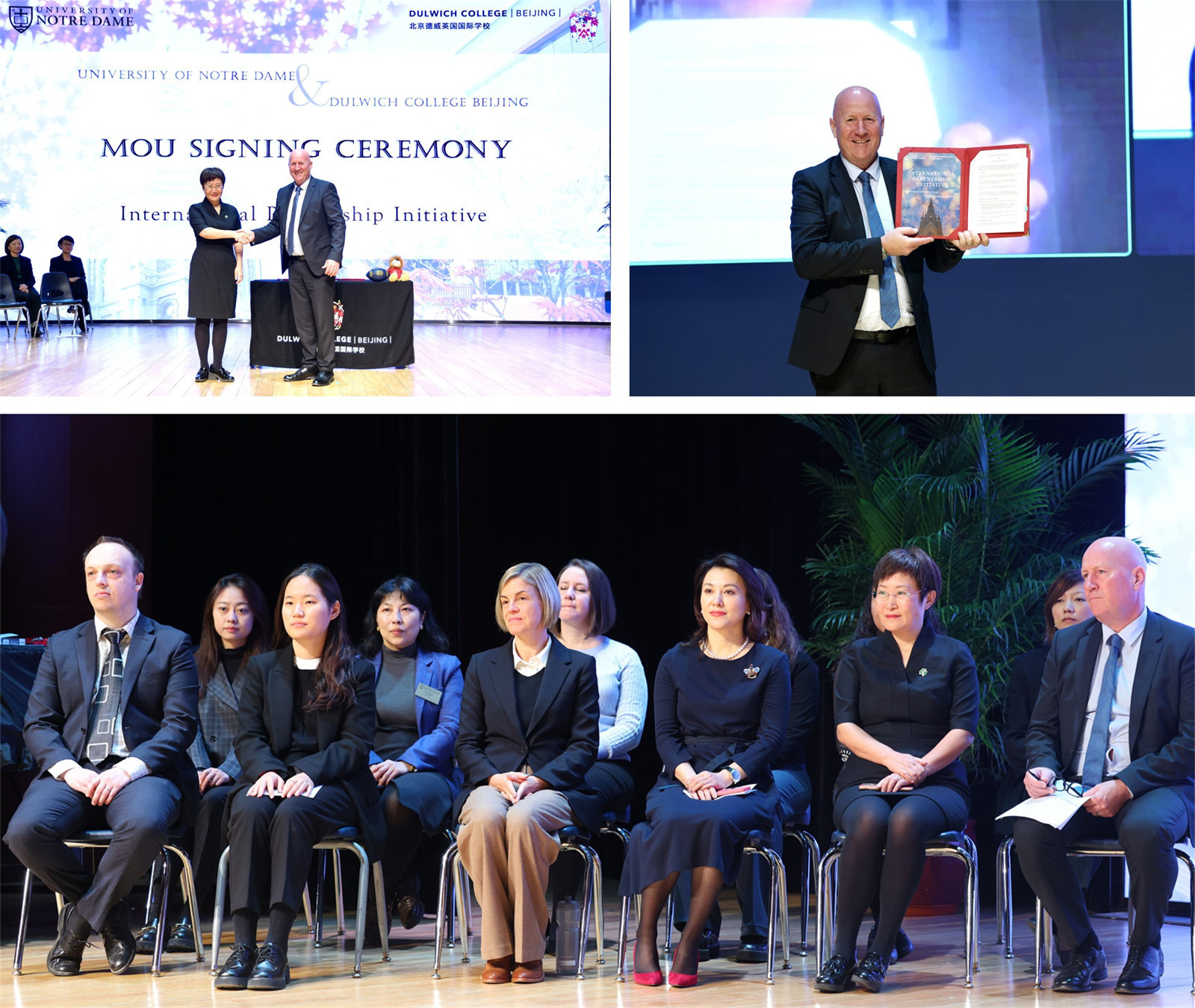 In Spring 2022, DCB established a joint scholarship that gave students in certain year groups access to the Notre Dame Pre-College Global Scholars programme. Notre Dame faculty offered master classes to some of the DCB Senior School students during the semester.

DCB Head Prefect Victoria H was one of five DCB students who participated in that engaging, college-level programme in spring. "All sessions of the Global Issues and Challenges course were infused with excitement." says Victoria. "I was personally empowered by the buzzing atmosphere, where inspiring discussions about some of the most pressing concerns of the world were eased."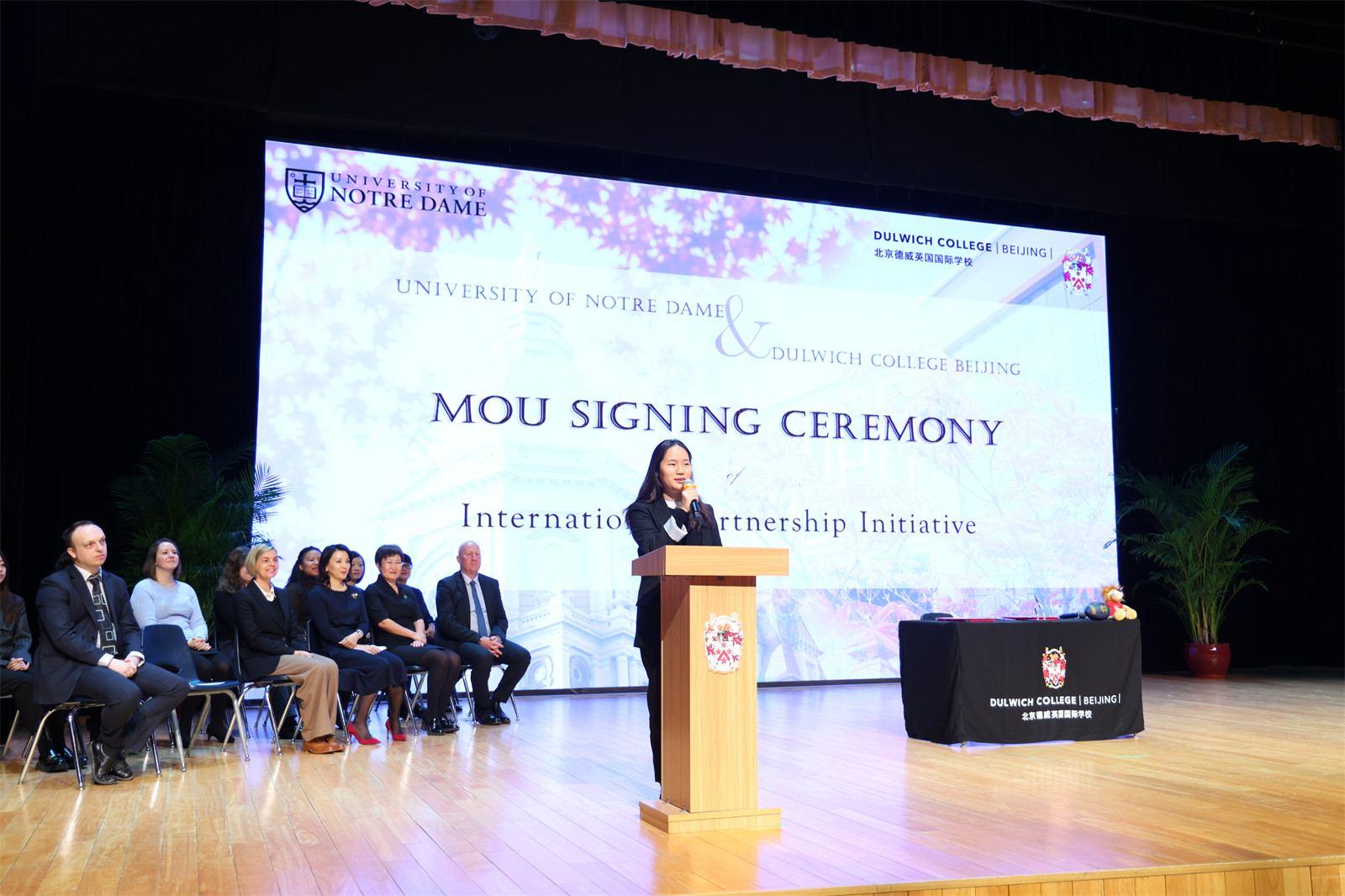 The MOU partnership will bring invaluable benefits to DCB students. "We are proud to continue strengthening our relationship and history with DCB, which enables us to provide holistic education to our students and impart the skills and knowledge that will equip them to make a positive impact in the world," says Dr Michael Pippenger, Notre Dame's Vice President and Associate Provost for Internationalization. "We not only hope to see more Dulwich students enrolled in the Notre Dame courses, but also look forward to creating other new models of collaboration for higher education and K-12."
The MOU encourages and supports international collaboration between the University of Notre Dame and DCB's faculty, students, and administrators in education, research, and outreach. The agreement also allows faculty to plan joint seminars, programs, symposia, and summer study tours to the Notre Dame campus as well as other Notre Dame global locations in Europe, Latin America and Asia.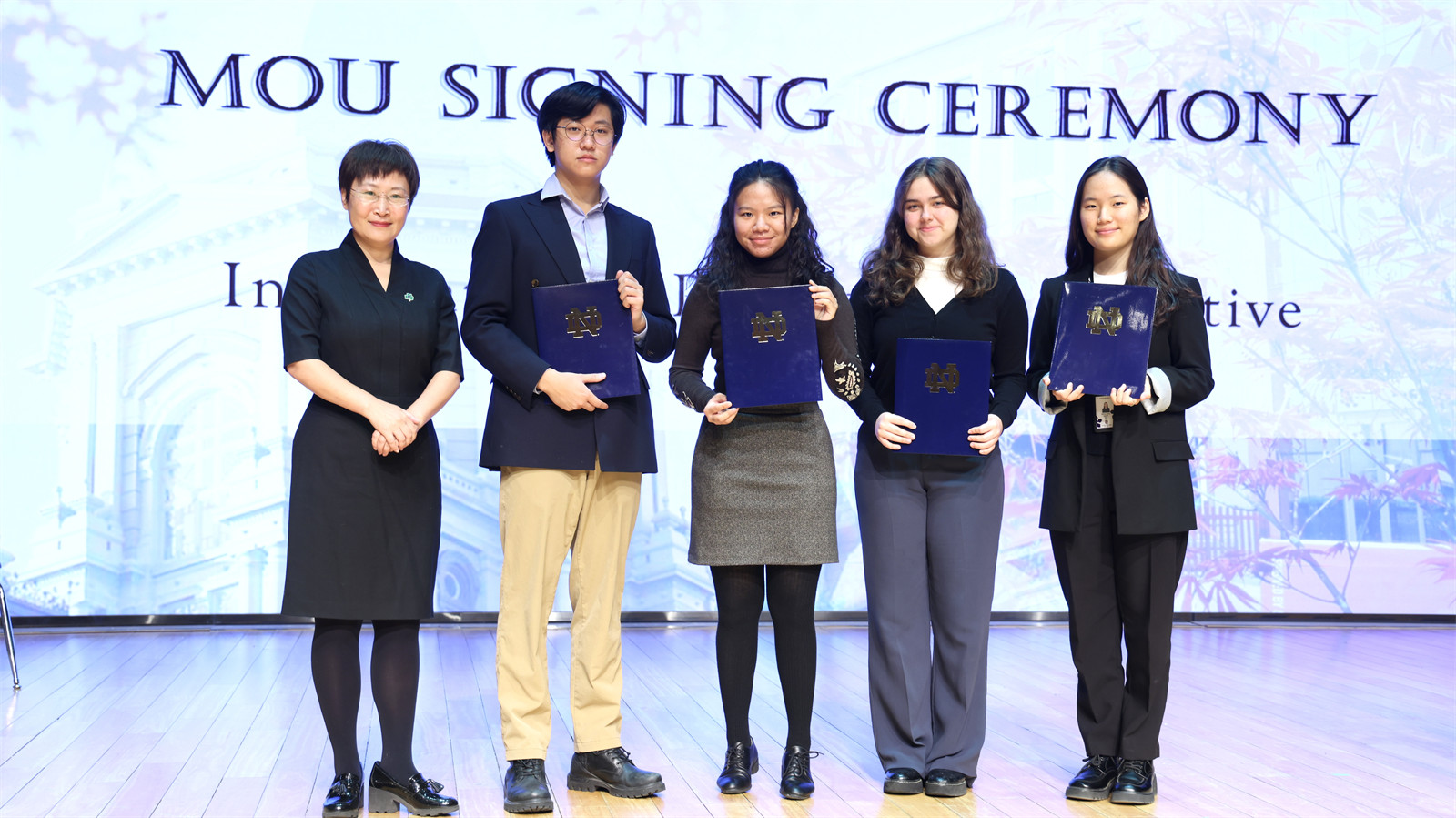 "Dulwich College Beijing and the University of Notre Dame share very similar aspirations for the next generation of global citizens, which has laid the foundation of the partnership," says Anthony Coles, Head of Dulwich College. "The Global Scholars programme will provide our students with a unique opportunity to engage with world-leading educators and stretch their thinking as they tackle complex issues in an international setting."

"I would strongly recommend this program to students," says Head Girl Victoria H, "both as a crash-course of international relations, as well as an enriching educational opportunity that can help train one's versatility and critical thinking skills as a learner in an invaluable college atmosphere."
Ms Meng Tong, a DCB Senior School parent, highly comments on the MOU partnership in her speech from the parent's perspective at the ceremony. "As a parent, I am glad to see that international partnership, global citizenship, and pioneering spirits are among the important subjects and objectives of this collaboration, and I trust this international initiative will succeed in introducing the necessary exposure for the younger generation, to the cutting-edge idea exchange in this time of need," says Ms Meng Tong. Quoting Mr Shen Wei, a famous artist she has recently interviewed, "if one can open all his or her senses, he or she will be able to discover more beauty and diversities of the world," Ms Meng Tong says, "I do appreciate the efforts that Dulwich College Beijing and the University of Notre Dame have put in, to allow the students to open up their senses and minds to be able to really make a difference in the future for a better world for mankind."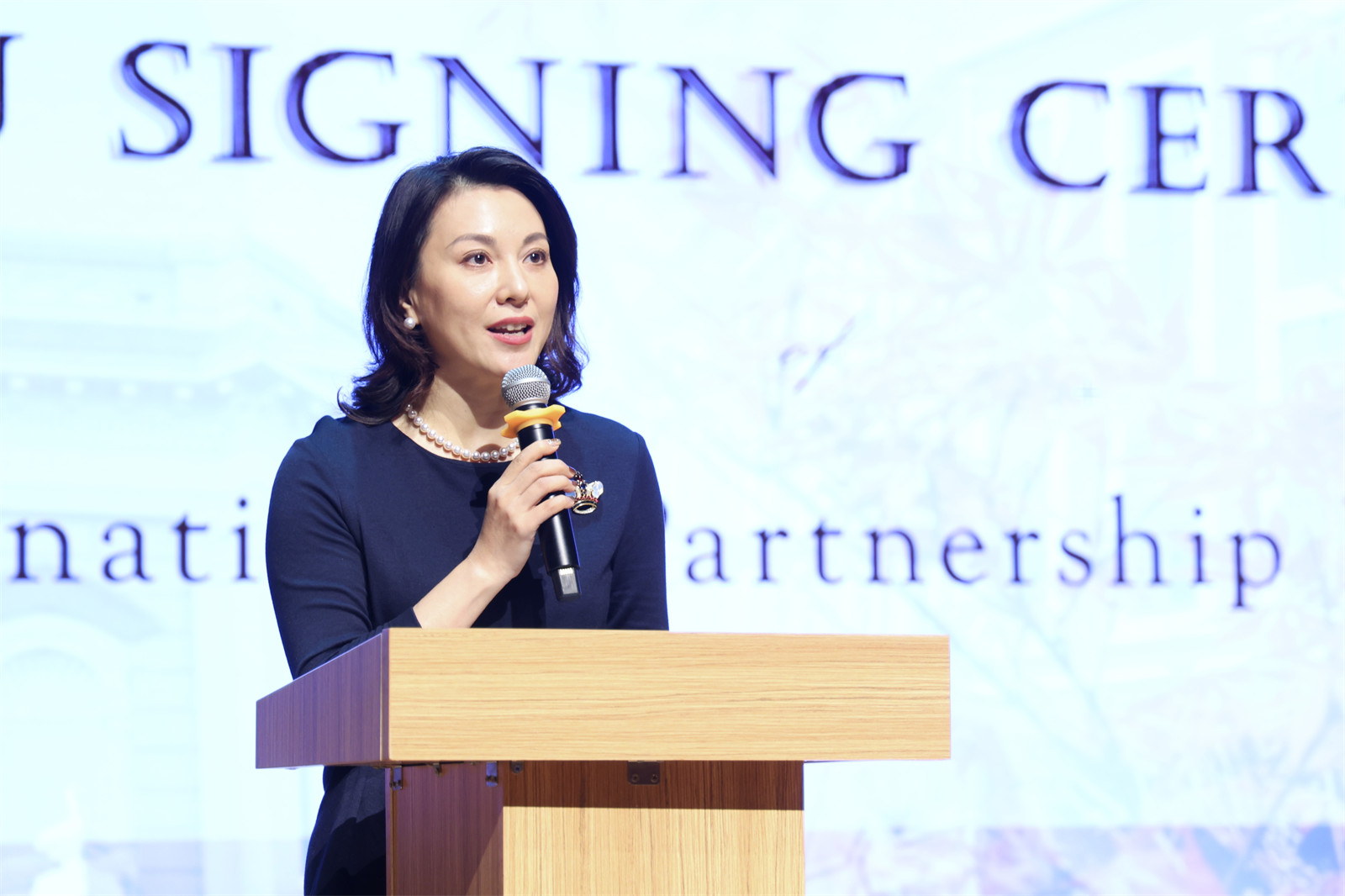 The agreement also supports further development of Notre Dame's global network through the cultivation of programming and partnerships that promote an exchange of knowledge across their Global Gateways and Centers.
Notre Dame International has more than 120 agreements with partners on six continents. These agreements include institution-level general memoranda of understanding; exchange programmes for undergraduates, graduates and faculty; and partnerships that bring international students to Notre Dame for short-term academic programmes.
Dulwich College Beijing is one of the Dulwich College International (DCI) family of schools. It's made up of over 1,570 students from age 3 to age 18, with over thirty different nationalities represented in our diverse student body.