Celebrating DCB's Class of 2023 University Offers
Celebrating DCB's Class of 2023 University Offers
Rachel Garcia
Dulwich College Beijing
Dulwich College Beijing is proud to share the most recent university offers of the Class of 2023. Some students are still deciding on their final university destination as we wait for IB results, but we have this good news to celebrate in the meantime.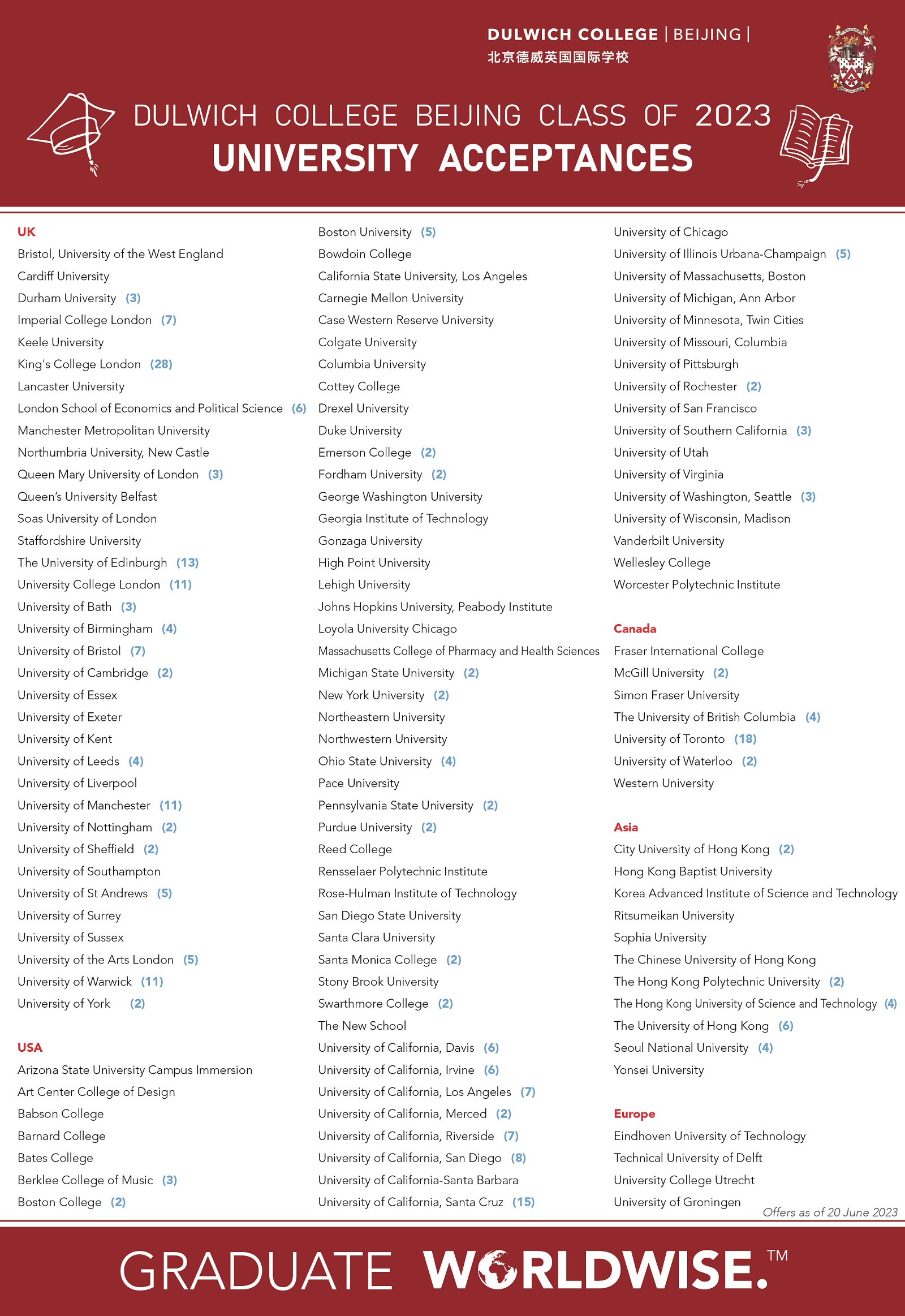 These offers not only reflect our graduates' hard work and achievements but also demonstrate how our community of teachers, counsellors, coaches, and parents have guided and supported these graduates from day one at DCB.
We are often asked what the advantage is of choosing to attend DCB as it relates to university results. To answer this, we must first look at what universities, particularly selective US universities, value in an applicant.
The most important things that selective universities are looking for besides excellent grades, strong exam results, and passion for one's major or course are:
Long-term commitment to pursuing one's authentic interests, which will look different for each student.
Demonstrating involvement in a community and growing in leadership within it.
Making a tangible impact in one's school, local community, or even the world.
Evidence of being a resilient, inclusive, open-minded, confident, and kind person.
Throughout our students' time at DCB, every staff member at our school encourages the development of the above traits in our students, in and out of the classroom, in formal and informal ways. University counsellors are ultimately the ones who help students highlight their impact and contributions in their applications, but the foundation of a successful application really starts several years prior to writing the university essays and hitting the "submit" button.
A university counsellor plays a key role in helping our students find their best-fit university, however, they are one of many important people responsible for our students' success. The rigorous instruction of our classroom teachers, the support of staff supervising our extensive ECA program, the enthusiasm of our athletic coaches, the encouragement of our visual and performing arts instructors, and the care of our pastoral team have shaped our students into the mature graduates they are today. More importantly than the types of offers our graduates receive, we hope that our graduates move on from DCB demonstrating the values that our staff has worked hard to cultivate in them over the years.
Many congratulations to our Class of 2023 on their hard work this year. We wish them well as they start the next stage of their lives.