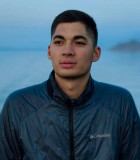 Edric E
Iowa State University
Dulwich College Beijing
Dulwich College Beijing Class of 2013
Nationality: USA
Post-DCB education: Iowa State University, major in Supply Chain Management and International Business, minor in Chinese
Currently based in: Shanghai, China
What are you busy with at the moment?
I'm working at TMC, a division of CH Robinson where we have a mission of connecting, automating and optimizing the world's supply chains. Specifically, I manage a team of seven people to use our technology and processes to optimise the Asia transportation/logistics network of a global consumer electronics company with a top 5 market capitalisation.
What are some of your memorable moments at DCB?
I have many fond memories from my time at Dulwich, including ACAMIS basketball, volleyball and football tournaments, fundraising for and participating in housebuilding trips to Cambodia, and enjoying more time with friends during IB and IGCSE "study" leave.
How have these moments at DCB helped you with your university or work life?
All the leadership opportunities that were made available to me (House captain, sports teams captains, interact club VP, prefect, etc.) gave me relatively low-risk environments to develop confidence and experience in leadership, which made it natural to pursue similar opportunities at university and at the workplace. The international environment also enabled students to work collaboratively with people from diverse backgrounds. And of course, growing up in Beijing helped me develop Chinese language skills, which was a key factor in my company relocating me to our Shanghai office.
Tell us a little bit about some internships or jobs you've had.
I've interned at a logistics company in Florida, FedEx in Beijing (thanks to a DCB connection), done a school project with the US retailer Target, and worked for TMC in Chicago for two years and here in Shanghai for the last year. I also had many on-campus jobs including working at our dining centre, leading an international orientation class, and tutoring our Iowa State student-athletes including current NBA players (which I like to brag about a lot).
What would you like to say to current DCB students?
Be intentional about pursuing opportunities but don't forget to enjoy the present. Everything will be okay.
(Updated June 2019)
---