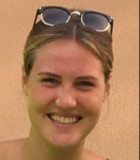 Rebecca S
Copenhagen Business School
Dulwich College Beijing
Dulwich College Beijing Class of 2017
Nationality: Danish
Post-DCB education: Copenhagen Business School, major in International Business and Politics
Currently based in: Copenhagen, Denmark
Learning independence and facing challenges beyond academics: A gap year
Why did you decide to do a gap year?
Taking a gap year was something I had already decided to do back in Year 10. Both of my parents took gap years, and in Denmark it is very normal to do so. I didn't really know what I wanted to study or what profession I wanted, and I hoped that if I took a year to pursue my passions, I would be more certain in choosing a career path that was perfect for me.
What did you do for the year?
I started off by travelling to Labuan Bajo, a small rural harbour town on the Island of Flores in Indonesia and the gateway to the Komodo National Park. The Komodo National Park is known for its Komodo dragons and for having some of the most pristine and rich marine life. This is where I decided to become a scuba diving instructor. The training took a little under three months, and after that, I stayed and worked for half a year, guiding tourists underwater, conducting diving courses and one occasion, having the opportunity to run a liveaboard in a cruise director capacity. Following my underwater experiences, I travelled to Accra in Ghana. I had communicated with an NGO football academy there called the Rising Stars of Africa, a talent academy that recruited players from rural parts of Ghana and provided board, training and free education. I had asked if I could come and volunteer as an assistant coach and when I arrived, I was given the responsibility of coaching the U13 team, who was a group of extremely talented, albeit cheeky boys who I ended up building a very close connection with. As is the case with many of these smaller NGOs, funds are often an issue, so I created a video depicting their situation hoping to gather funds to buy a new pair of football boots for each of the 50 boys at the academy. This ended up being a great success despite knowing that it will only alleviate the financial strain that many of these organisations face short term.
What skills did you learn or opportunities you had out of school?
I think one of the most important skills that I can take from my gap year is that of being independent. When you are in school, or university for that matter, you have the option to be independent but there will always be a safety net of teachers, peers and parents that can help you along the way if you need it. This net disappears when you're stuck on a local bus that breaks down five hours from your destination in a foreign country, with no internet connection and you don't speak the language; or you're suddenly hit by a surge of current 30 meters underwater with five guests looking to you for comfort. You can't rely on anyone other than yourself, and you have to quickly learn to trust your own instincts, hoping that all of your experiences and training up until that point will allow you to make smart decisions.
Did this gap year help you in uni or in your world or generally your worldview?
I don't think my gap year changed my worldview, but it definitely enhanced it. Everyone knows about the struggles impoverished children in Africa face, and we understand the impact that global warming has on the world's coral reefs, but actually experiencing it and creating relationships with people from all kinds of backgrounds and cultures, seeing a favourite dive site bleach over the course of half a year, is both frightening and motivating. It definitely influenced my choice in education at university, and I hope that my courses will eventually provide me with the necessary skills to come up with sustainable solutions to any of the major issues that face the global population today.
(Updated April 2019)
---