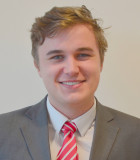 Thomas L
Erasmus University Rotterdam
Dulwich College Beijing
Dulwich College Beijing Class of 2015
Nationality: Dutch
Post-DCB education: Erasmus University Rotterdam, major in Health Economics, Policy and Law
Currently based in: Rotterdam, the Netherlands
What are you busy with at the moment?
I'm currently finishing a Master in Health Economics, after which I will continue with the internship part of medical school in Rotterdam. I also work as an assistant nurse in the hospital on the kidney transplant ward. There I've gained much needed experience and humility with patients.
What are some of your memorable moments at DCB?
I found the science teachers to be incredibly welcoming and hardworking for us students, especially Mr Kaye, Miss Parker and Mrs Stanley. I also learned a lot from Mr Archer during the rugby seasons. He taught me a lot about the importance of health, fitness and athleticism.
How have these moments at DCB helped you with your university or work life?
Without such great teachers, I would never have had the work ethics and motivation to get into medical school. They taught me to work hard to get to where you want to go, to have fun in the meantime, and sparked my interest in the sciences even more.
Tell us a little bit about some internships or jobs you've had.
Besides working in a hospital ward, I've worked as a research assistant, and I am about to publish my first paper on fall prevention in hospitals. I also volunteer as a sexual education teacher at local high schools to promote health and safety among young adults.
What would you like to say to current DCB students?
The US and UK aren't the only countries with great universities. Many European universities are in the world's top 100. Countries like the Netherlands, Sweden, Denmark and Belgium offer great courses in English, often for only 2,000 euros in tuition fees per year and lower cost of living. Also, uni isn't that hard coming from the IB programme, so get out there, party, try new things, and enjoy life!
(Updated May 2019)
---