Meet DCB's Junior School Chinese team!
Join us to learn more about Chinese teaching in Junior School with our experienced Chinese teachers! Combining creative and scientific teaching approaches, they help our students reach their individual Chinese learning goals, be it bilingual proficiency for native students, or conversational abilities for non-native students.
How many Chinese teachers are there in DCB Junior school? What kind of academic and teaching experience do these Chinese teachers have?
The DCB Junior School Chinese team consists of six teachers holding either a bachelor's or a master's degree in Chinese language and literature. Two-thirds of the teachers have an overseas or international school Chinese teaching experience. Our team has extensive knowledge of the Chinese language and literature, and also understands the learning paths and characteristics of international school students. We all excel in teaching with creative and various approaches
What makes a good Chinese teacher in an international school? How do DCB Junior School Chinese teachers effectively guide students' Chinese learning?
Firstly, the teachers must have profound knowledge of the Chinese language and its subtleties and beyond, namely Chinese literature, history and even philosophy! Teachers should be continuous learners themselves and have the motivation to constantly improve.
Secondly, the teachers should be open-minded and positive. It is very important that we keep ourselves informed about the latest trends in Chinese learning, both in China and internationally.
Thirdly, our school requires teachers to be able to manage stress and be flexible, so teachers should have good skills in time management, teamwork and communication.
Last but certainly not least, I'd like to mention we need team members who genuinely care about students, show passion and patience in Chinese teaching, honesty, and respect others.
Learning Chinese is a long-term and complicated process. We hope to ensure continuous and effective learning by encouraging students to become independent learners. For example, we motivate students to think independently by asking effective and engaging questions. We encourage them to integrate their learning into their living environment by participating in diverse and meaningful language and cultural activities. We aim to establish good teacher-student relations and foster a healthy and positive learning environment to help students become independent learners and achieve even better learning results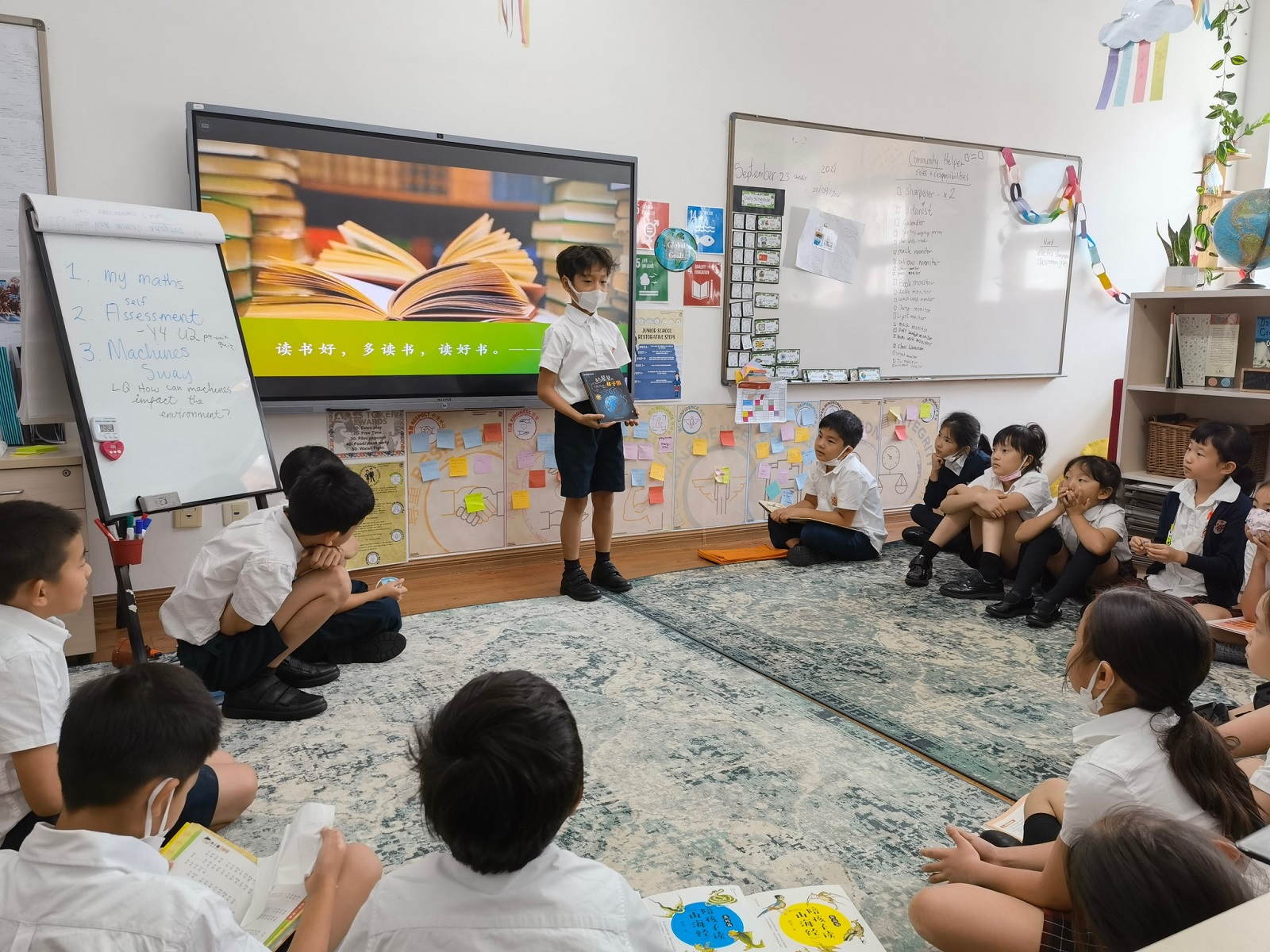 What is the Chinese teaching in international schools like? What are the challenges? How does the DCB Junior School team deal with these challenges?
The Chinese learning environment in international schools is quite special compared to that of bilingual or local schools. Native and non-native Chinese speakers study together, and the learning objectives of the students can also be quite different. Students who speak Chinese at home may wish to strengthen their bilingual ability; while non-native students may wish to use their time in China to master the language.
As the school delivers an international curriculum, our students will structurally dedicate less Chinese learning time than their peers from local schools. However, our parent community maintain rather high standards in terms of Chinese learning, so as teachers, our challenge is to balance both sides of the equation.
We mainly deal with these challenges by grasping the core of learning and achieving better learning results within limited time and resources. The essential goal of any language learning is to develop communication skills, which is the use of language. Toward this goal, we have integrated the traditional listening, speaking, reading and writing practice into three abilities that are more applicable for language learning, namely:
interpersonal ability
interpretive ability
presentational ability
The "listening, speaking, reading, and writing" that is often mentioned is actually to cultivate these three abilities and achieve better communication results. We cultivate and exercise the core communication skills of students through diversified learning methods. For students of different levels and different age groups, we focus on differentiated learning and emphasising different content, to achieve efficient and effective learning results
What are your approaches to teach students of different year groups and coming with different linguistic and cultural backgrounds? How do you help students prepare for future learning in Senior School, or even beyond?
We adopt different teaching methods according to students' different abilities and ages.
For non-native students, we emphasise the practice of language or interpersonal abilities. The core of learning for these students consists in using Chinese to communicate in daily life situations. For that purpose, we use different foreign language learning methods, such as communication practice, listening and speaking practices as well as body language responsive practice.
For native speakers, we focus on learning the academic language, emphasising their reading and writing proficiency, along with their ability to read and appreciate Chinese literature, so that students possess the ability to understand and interpret, to present and deliver speeches.
For younger students such as Year 3s, we mainly aim to build up their oral expression by developing their vocabulary and logical thinking and start guiding them through the basics of writing. For Year 4 students, we further emphasise the logic and accuracy of oral expression and target at writing specific paragraphs and chapters.
Older students in Year 5 and Year 6 further explore reading and writing, with the goal of increasing their ability to read about a larger variety of subjects. We also expect them to be able to grasp different types of narrative writing and have the ability to make speeches and debate about various age-appropriate topics. Meanwhile, we expect the older Junior School students to be able to understand basic classical Chinese writings and to possess a certain understanding of ancient Chinese history.
We pay great attention to the ability of reading and writing in Junior School. This is to prepare them for Chinese learning in Senior School and future. Through massive reading and systematic writing training, we build a foundation for students to be prepared for various international Chinese exams in the future.
We have recently introduced the Level Chinese platform to test and evaluate students' reading ability every year, to make Chinese teaching and learning more scientific and systematic. The recent evaluation results of our students on Level Chinese have proved that our Chinese teaching and learning are very effective. This is a satisfying outcome for our Chinese teachers.
What is the cultural atmosphere for Chinese learning at DCB? What Chinese culture-related activities do you conduct, and how do they enhance the students' Chinese learning experience?
The Chinese learning atmosphere at DCB is very good! Students have a high level of interest and passion for Chinese learning and parents highly value Chinese learning. DCB Junior School has a variety of Chinese activities every year. They encourage students' enthusiasm for learning in many ways and also provide opportunities for students to apply theories to practical situations, thereby enhancing the learning experience. We have a list of activities that take place regularly in Junior School:
Regular reading sharing sessions stimulate students' interest in reading and trigger more discussions about the topics they just read about. We even partnered with Shijia Primary School for students from both schools to share their reading experience!
The Chinese Picture Book Competition enhances students' interest in using the Chinese language and therefore, strengthens their confidence.
There are over 30 types of Chinese cultural workshops every year, and each student has the opportunity to experience at least 10 on average. To name but a few, tie-dye, tea art, dough figurine, Peking opera, wooden work, shadow puppetry, martial arts… Students deepen their understanding of Chinese learning by immersing themselves in these Chinese culture workshops.
Before the pandemic, the Chinese department organised field trips in relation to topics learnt in classrooms. This was an effective and well-appreciated supplement to students' learning.
The Chinese New Year performance is one of the most popular activities each year. Various programmes showcasing different splendid Chinese elements provide students with a platform to showcase their Chinese cultural accomplishments.
Junior School Parent workshops invite parents to talk about professional knowledge in fields related to Chinese learning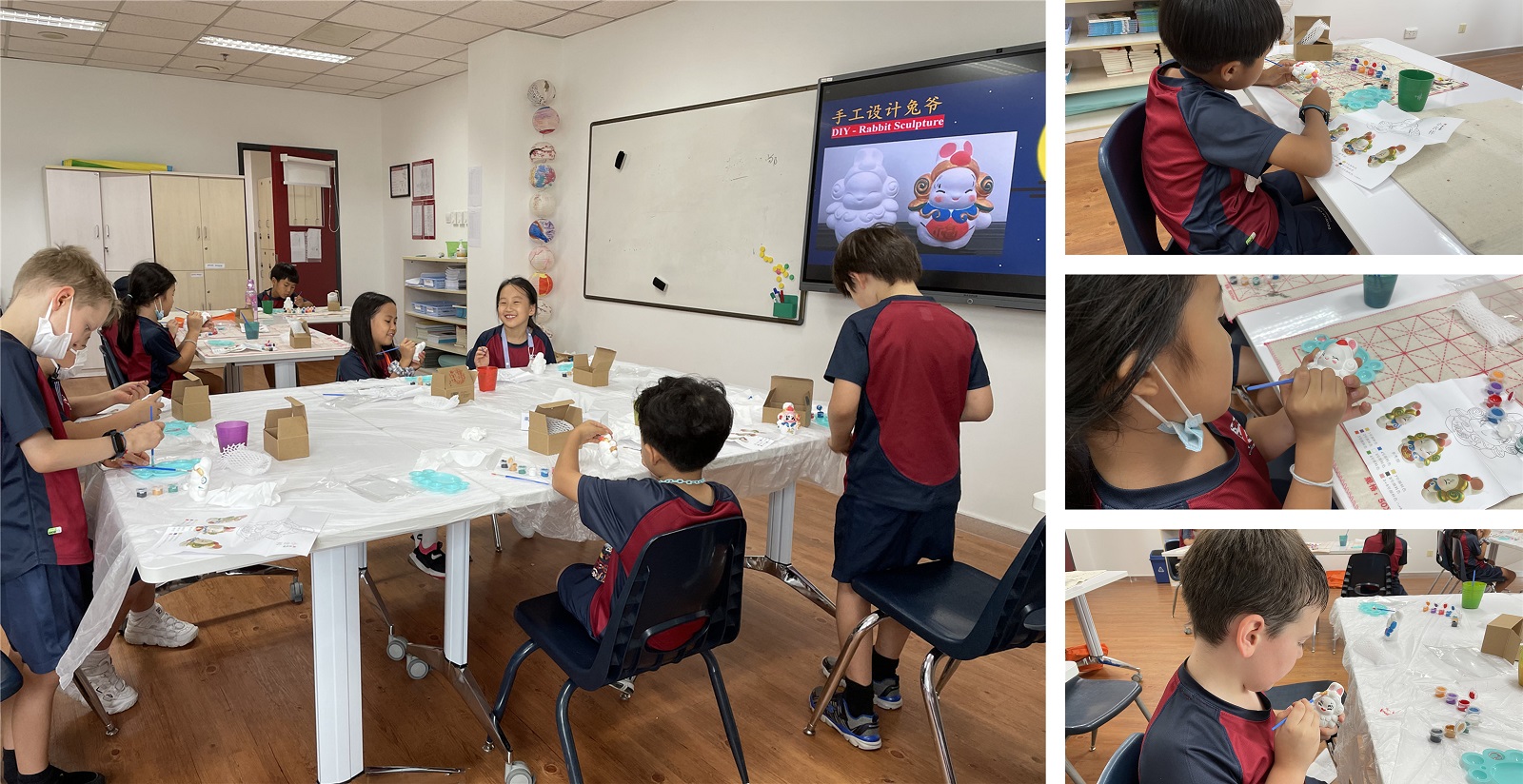 How can parents support their children in their Chinese learning journey, and collaborate with the teachers?
For younger students, cooperation between parents and teachers is necessary. One of the most important things for parents is to ensure students properly complete each of the assignments given throughout the week. The DCB Junior School Chinese learning task list is designed according to scientific approaches to language learning. We count on parents to cooperate with the Chinese teachers to conjointly develop their children's independent learning and build up their sense of responsibility. This is very important! Our Chinese teachers are of course willing to communicate with parents and clarify potential questions about the school's tasks and teaching. Ultimately, parents and teachers should join forces to help students reach their full potential.
We usually recommend parents minimise after-school Chinese tutoring, especially those resulting in additional assignments. Completing school-given tasks are practical and sufficient for students. For language learning, having good reading habits is of utmost importance, so we hope students are given enough time at home to read, and to read about any age-appropriate topic. Good reading habits lay the foundation for language learning and bring lifelong benefits. It is therefore important not to overly focus on the short goal of scoring high quickly and spend too much time on assignments of lesser importance.
Finally, in addition to "reading thousands of books", we also hope that parents will take their children to "travel thousands of miles" outside of classrooms. Visiting museums, walking in the streets of Beijing, exploring China's historical sites and famous mountains and rivers are enriching opportunities to expose students to a broader and more authentic Chinese life and culture. This also encourages them to think about related topics they were taught at school.
What do you think is the most enjoyable and rewarding being Junior School Chinese teachers at Dulwich College Beijing?
What makes us happiest is our teamwork. Thanks to this very healthy, active and efficient teamwork, students have made amazing progress in Chinese learning! Our biggest reward is to see that our students can excel in Chinese learning in the environment of an international school