Missing DCB Orchestra and Choral Music? Listen Here!
The Philharmonia Orchestra did it, the Boston Pops too. Watch out world, here comes the DCB Junior Strings virtual orchestra!
As the campus closure continued into March, DCB teachers felt the need to provide opportunities to enrich the online learning experience for students. In music, we looked for ways our ensembles could perform together, and at the same time, overcome challenges with students and staff in different parts of the world.
Get ready to tap your feet:
DCB Director of Performing Arts Nina Haynes explains how the virtual orchestra was done:
A couple of years ago, Junior Strings performed a piece called "Shut Up and Dance", by the band Walk the Moon. The students loved playing it, and the audience enjoyed listening to it, so I decided to return to this piece.
I put together a play-along track from YouTube, which would help the musicians play in time. The students then videoed themselves playing their part, whilst listening to the track through headphones. They uploaded their videos, and then I worked on syncing the audio and video. This all came together into a fantastic performance and allowed the students to really show off their wonderful musical talents.
With some members of the group not having access to their instruments at the moment, I am hoping that once they return to Beijing, they will submit a video to be added in.
Both the students and parents from Junior Strings have all been hugely positive following the video, and we are hoping (time permitting) to do another virtual performance before the end of the school year.
Not to be outdone, the vocal department at DCB initiated a virtual choir and invited singers from across the Dulwich network to participate. The ensemble, led by Mr Simon Armstrong, poignantly conveys a message of hope, perseverance, and unity through the song "Towards Infinity".
Get ready to be touched by these strong and beautiful voices:
Video by Ms Alexis Armstrong
The song was written by acclaimed Australian composer, conductor, and educator Paul Jarman.
A returning practitioner of Dulwich College International's Diversity Arts Series, Mr Jarman has intensively worked with Dulwich music students during his many residencies.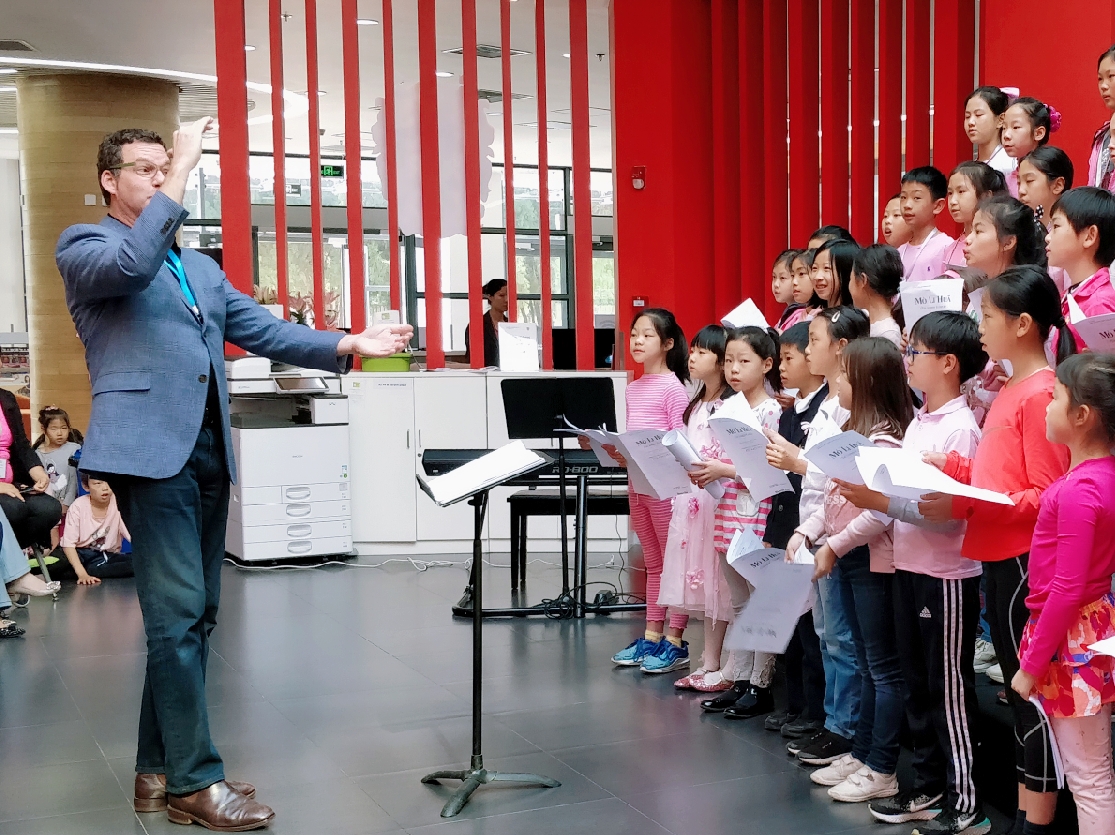 Mr Jarman visiting DCB in October 2019
Dulwich Virtual Choir participating schools:
Dulwich College Beijing
Dulwich College Seoul
Dulwich College Shanghai Puxi
Dulwich College Suzhou
Dehong Shanghai Chinese International School
Both the virtual string orchestra and the virtual choir demonstrate how students can receive a holistic and experiential education in any learning environment – that's the Dulwich Difference.